THE NIMMO BROTHERS Brother To Brother Armadillo 00033 (2012)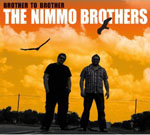 The Nimmo Brothers have been playing together for over 18 years and 'Brother to Brother', their sixth album, reaffirms their musical connection with Texas Blues, with a big sound, lashings of guitar and 9 self penned songs, one co-write and two rather obvious covers.
And in temporarily shifting their Glaswegian soul to their spiritual home in Austin Texas, they have surrounded themselves with a stellar line-up of helping hands with Jamie Oldaker (Eric Clapton) on drums; Michael Ramos (Los Lonely Boys) on Hammond organ; Bill Whitbeck (Robert Earl Keen) and Jimmy Pettit (Joe Ely Band) on bass guitar. But while the 'A' team works up some real intensity and heartfelt emotion, it's the quality of the songs that remains pivotal, topped by Stevie's impressive vocals and Alan's fiery leads.
The album title takes its name from a line in the funky opener 'Still Strumming', which sends out a lyrical message of naked defiance, which all but acts as the central theme to the album; 'When then the chips are down and there ain't no other, still here strumming, 'Brother to Brother', I don't care what the new kids play, stand up and we all know that they ain't got much to say'
It's an autobiographical song but delivered with a Texas feel and real swagger as the two brothers go head to head in the company of Austin's finest.
As always, there's an underlying tension to the brothers music, not a competitive edge as you might imagine, but a slight difference of musical emphasis with Alan's penchant for rocking counter-balanced by Stevie intuitive feel for all things Americana. As it is Stevie matches every lick Alan throws at him and brings real feel and angst to 'Lady Luck' as the two scorching guitarists search out every sonic possibility the studio offers them. It's a powerful song with a Paul Rogers feel, a fact that might explain the later cover of 'Wishing Well'. There's also a noticeable heavier distorted tone to the guitars which sends out a message that they are here to nail the licks, explore the grooves and make the most of the feverish riffs of 'Lady Luck' and the chanted hook of 'Coming Around Again'.
With one eye on dynamics and sequencing, the album slips into rock ballad territory as Stevie's musical partner Sebastien Vaivrand adds cool organ on the stop-time 'For You', which is prime FM radio fare. The slide led 'Sneaking On' again features Stevie on vocals, on another big arrangement that is full of burning slide, stop-start verse and a booming chorus, while 'Never Gonna Walk On Me' is probably the heaviest Nimmo's offering yet with pounding repeated dirgy riffs.
It's also the perfect prequel to 'Living Again' the stand out track on the album. The rock solid groove and wall of sound is the perfect foil for the descending slide guitar motif and indefatigable lyrics delivered with real depth; 'I'm not afraid of dying but I'm afraid of being dead'. If you ever wanted snap shot of what this band is about, look no further than this uplifting, pile driving rock-blues workout. In fact, aside from many heartfelt lyrics, this is a very American sounding album with big arrangements, and distorted guitar tones. It's a much heavier album that the previous 'Picking Up The Pieces' but still has the quality control to remain a step ahead of the posse.
'Waiting For My Heart To Fall' is a sweeping ballad and there's still time for some perfectly judged slide and Americana on 'King And Country' - a distant cousin of their previous 'A Better Day' - before a curiously laid back cover of 'Shape I'm In'.
And although 'Brother To Brother' is a successful realisation of the band's American dream, the guitar driven, dirt in the tracks burning intensity still bears their unique Caledonian imprint.
****
Review by Pete Feenstra
---