MR DAY Dry Up In The Sun Favorite Recordings FVR062CDPR (2012)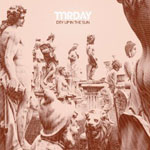 MRDAY's 'Dry Up In The Sun' is a misleading title for an album bursting with psychedelic tinged soulful cool and shaped by mellifluous dance floor funky grooves.
You want mellow, you want cool, you want Mod tinged psychedelic soul with a garage punk heart? Then step this way as the French Mod influenced soul stylists MRDAY take you back to the late 60's and to a time when psychedelia and soul occupied the same planet and better still cross fertilized.
Perhaps only a French band with a willingness to embrace a wide variety of music could achieve such a retro glance over the shoulder and drag soul on to the 21st century dance floor. But that would be to overlook scene movers like Ocean Colour Scene's Steve Cradock and Paul Weller, or indeed the acid jazz scene that inspired MRDAY's leader Eric Duperray. Either way, Messieurs Cradock and Weller would both surely enjoy a record that unashamedly mines the past for a contemporary sense of post psychedelic cool
Formed in Lyon in 2007, 'Dry Up In The Sun' is the band's second album and it's a glorious retro mash up that subtly shifts is focus from its apparent psychedelic garage band origins, via funky dance floor beats, to a post psychedelic soulful cool. The music washes over you and seamlessly leads to a climactic choral finish that conjoins Primal Scream angst with the Stones 'You Cant Always Get What You Want'.
And while some of the band's influences are self evident, notably on the Four Tops style 'Forgotten Realms' and more obviously on the Curtis Mayfield vocals on 'Right On', this is an album with its own creative source. At times MRDAY are understated as on the organ led, mellow groove of 'Follow You', while on the Curtis Mayfield influenced title track they almost over egg the cake on a superbly produced example of what they are really all about.
But for the most part MRDAY search for subtle grooves, dynamics, and enough space to house the kind of majestic organ breaks that makes 'Follow You' so essential. There's further echoes of The Four Tops on the layered harmonies, insistent percussion and dance friendly rhythms of 'Caveman', while the band stretch out on slow burning gospel tinged 'Head Down In The Water'. It's the kind of track that perfectly fits in the nouveau soul scene recently championed by Warren Haynes and the Royal Southern Brotherhood.
And having cemented their role in the present, the title track perfectly distills the band's unique oeuvre, as it drips with soulful intent, emotive feel and aching bv's.
MRDAY successful uses the past as a launch pad for the future as exemplified by 'One Step' on which Eric sings, 'one step forward darling, two steps back', with sandpaper Barrence Whitfield style vocal played out against an ascending horn line. The song is an effective musical reference point for the soul music from the source that the band explores so eloquently. It doesn't get much more authentic than this.
'Dry Up In The Sun' almost starts out as a homage to an era but ends up as a creative triumph on a slow burner of an album that beguiles you with its mix of funk, gospel r&b and post psychedelic soul. French retro pop never sounded so good.
****
Review by Pete Feenstra
---
| | |
| --- | --- |
| | Print this page in printer-friendly format |
| | |