MILLION $ RELOAD A Sinner's Saint Frontiers (2012)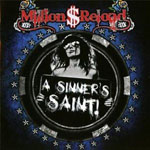 Second album from this young Belfast based band and their first for their new label Frontiers. Listening to this album vocalist Phil Conaline brings to mind the late Bon Scott and Skin's Neville MacDonald. Listen to 'Blow Me Way' and you'd swear you were listening to Skin, as the band neatly combines big riffs and a catchy as hell chorus.
'Bullets In the Sky' is a hook filled anthem, whilst 'Fight The System' gets right in your face and tips its hat to classic AC/DC. There is only one ballad on here, 'Broken'. Not a bad tune but a tad clichéd with the strings backing and they don't quite pull it off.
Providing the band can land a few decent support slots and festival appearances they have the songs on here to make a big impression. Tunes like 'Smoke And Mirrors' and the aforementioned 'Bullets In the Sky' are made for the live stage.
If AC/DC and Skin shake your tree this is one album you need to get.
****
Review by Jason Ritchie
---