THE MICHAEL LANDAU GROUP Organic Instrumentals Provogue (2012)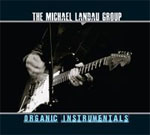 Michael Landau has lent his guitar talents to any number of sessions since the eighties but unlike, say, Steve Lukather he is barely recognised (or recognisable) by a wider record-buying public. "Organic Instrumentals" is unlikely to change that perception although it will of course appeal to guitar aficionados.
Given that Landau has played on albums by artists as diverse as Miles Davis and Mariah Carey (he also played the leads on Steve Perry's 'Street Talk') the word "chameleon" comes to mind, and it is indeed difficult to determine a consistent personal style. So you would expect a solo album to sort all that out.
It seems, then, Michael favours a rock fusion tinged approach and on this he is joined by luminaries working in that field including Vinnie Colaiuta (Jeff Beck, Zappa), Jimmy Haslip (Yellowjackets) and Larry Goldings (John Scofield).
This completely instrumental set is opened by the attractive 'Delano' which together with 'Spider Time' is a slow-burner, gradually building the atmosphere with empathic Hammond from Goldings.
For my ears the whole album is far too safe, polite and meandering - immaculately played but it doesn't actually move me. Maybe that was the intention but it seems Landau has a comfort zone and stays there and there are no killer hooks or flourishes, just erudite, controlled playing. This is laid-back late night listening for sure, a view reinforced by 'Big Sur Howl' with Walt Flower's fluegelhorn interjections and Goldings' Jimmy Smith-esque keys.
But while attractive it all may be, there is nothing on this album that's going to set the world on fire or gain a wider audience, even in fusion circles. Which given Landau's wonderful pedigree and evident skills is a great shame.
***½
Review by David Randall
David presents 'Assume The Position' on Get Ready to ROCK! Radio every Sunday at 22:00 GMT
---
| | |
| --- | --- |
| | Print this page in printer-friendly format |
| | |