MEAT LOAF Hell In A Handbasket Sony (2012)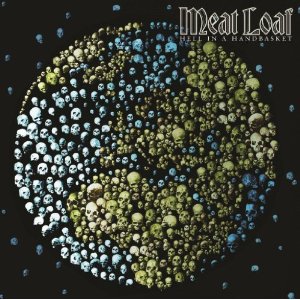 'Hell In A Handbasket' is a loosely based concept album which revisits Meat Loaf's halcyon days. He delivers a consistent, impassioned vocal performance and unravels plenty of booming hooks in a set full of songs that relate to Meat Loaf's outlook on life.
The album strikes the perfect balance between his well routined tour band and a wall of sound production guaranteed to shift air molecules.
As you would expect there are no half measures on an album that plays to Meat's strengths. Inevitably it's a big sounding record that is adventurous enough to dip into distantly related musical fields and bring out the dynamics of a full blown rock album.
Crucial to the success of the material is the way Meat Loaf gets inside the songs. If this album is his most personal work yet, it is his role as an interpreter of song and his unstinting ability to give his listener everything that connects a dozen disparate but thematically linked songs and makes them more than the mere sum of their parts.
Meat Loaf is the kind of guy who despite wracking up staggering sales figures over the last 35 years still approaches his work as if he has a lot to prove. And 'Handcart' is a triumph by virtue of its adventurous spirit and willingness to cross musical genres in a bid to hammer home his message.
Put simply, the good moments are so good that they carry the rest of the album.
Look no further than the opening 'All Of Me', which starts with the disarming couplet; 'I caught a glimpse of myself today, Wasn't a pretty picture, I must say'. Written by Nashville songwriter Dave Berg, Meat Loaf transforms it into a gut busting anthem worthy of his very best work. There's a big Springsteen style production (revisited on the closing 'Fall From Grace'), that features an emotive vocal, a sparkling piano led outro and a lyrical sentiment never more apt than when sung by the man himself; 'This is my anger, These are my doubts, These are my emotions, all strung out'.
'Hell In A Handbasket' is also Meat Loaf's most satisfying album outside of his collaborations with Jim Steinman, if only because it delivers a big production sound with a lyrical continuity to match Meat's unique phrasing.
Producer Paul Cook has called Meat Loaf 'a legend, an icon and a rock god' and his production is the key to a stellar performance that nuances the highs and lows, the beefed up choruses and emphasises the melodies, while always giving primacy to Meat's unique voice.
The dozen tracks cover self analysis, inner turmoil and an overriding disaffection with the world as exemplified by 'The Giving Tree', on another song that lays out the subject matter in the opening lines; 'I was temporarily blind by a neon dollar sign, It pacified my mind and whispered things are fine'. Meat also leaves you in no uncertain terms as to his contrition at the end; 'I gotta get back to living like I did before'.
The fiddle led, Zeppelin influenced rock anthem 'Live Or Die' is one of his best performances in recent times and carries yet another poignant lyrical message; 'Fall or fly - won't do a bit of good of asking why. There's only two choices in life - live or die'.
And as if to update his style he casts his musical gaze further a field on 'Blue Sky/Mad Mad World/The Good God Is A Woman And She Don't Like Ugly'. It's another thematically linked song that includes a stop-time break to usher in Chuck D's caustic rap. Whatever Meatloaf's die-hard rock fans may think of this brand of rap-rock, Paul Cook's clever substitution of a would be guitar solo with a hard hitting rap fits the song perfectly.
'California Dreamin' on the other hand sounds out of kilter as a result, with the great harmony singing sidelined by a cold computer line and an 80's sounding sax part from David Usher. It's the one time on the album when Meatloaf over sings, bringing a hammy quality to a song that should be a laid back celebration of west coast living.
He's soon back to examining his own fragile psyche on 'Party Of One' with a Tubes riff and Beatles style bv's, and he puts all his emotion into a big ballad 'Another Day'.
Then there's the powerful groove and climactic hook of '40 Days' which provides one of several triggers to his best spine tingling rock for years. The spiralling guitar, thundering drums and a sudden drop down mandolin line provides a killer ending.
There's still time for 'Our Love And Our Souls', an excellent duet with long time vocal partner Patti Russo on which he restates his spiritual values. 'Stand In The Storm' is another highlight with rich harmonies, an awesome wall of sound and a great uplifting hook, offset by brilliant alternating verses from Trace Adkins, Lil John's guttural rap and Mark McGrath, over thunderous riffs.
'Blue Sky' is a big choral masterpiece and the album finishes with an effective staccato guitar line on 'Fall From Grace', a song with yet more lyrical humility.
'Hell In A Handbasket' is by no means perfect but it's a great rock album that is well thought out, passionately performed and deserves to rekindle Meat Loaf's recording career.
*****
Review by Pete Feenstra
---
| | |
| --- | --- |
| | Print this page in printer-friendly format |
| | |