MAX WEBSTER Reissues Rock Candy (2012)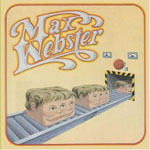 Canadian band Max Webster, led by vocalist / guitarist Kim Mitchell, produced some fine hard rock albums between the mid 70s and early 80s. Their roots were in the late 60s but signed to Rush's production team, and the eponymous debut appeared in 1976 (the label info gives confusingly both the 76 original and 77 reissue information).
Max Webster kicks off with the punchy and rawkus Hangover, it's a strong number that sets the scene well; solid rock that sat well on FM radio without being too commercial, a hint or two of Rush, it's a good start. Solid driving rhythm, intricate keyboards, and some screaming bursts of both guitar and vocals really do boost the octane factor.
The album features left field nods, from Zappa and Beefheart to Genesis and King Crimson, especially on the more piano oriented pieces and vocal harmony moments. Coming Off The Moon is a chunky number with mainstream prog/hard rock leanings. A lot of intricate moments that mix with rock well. In some territories a later issue had a new sleeve and was titled Hangover.
1977's High Class In Borrowed Shoes kicks off in similar fashion with the title track, and a hint of glam boogie in a balls to the wall fashion (think a mix of Boston and Queen thrashing it out).
Diamonds Diamonds is more whimsical but the layered rotating vocals make for a good effect. Some definite Crimson / Genesis influence here. Again, the music ranges from balladic to blistering rock out, and each mood is handled well.
1978's Mutiny Up My Sleeve opens with the solid Lip Service, uptempo hard rock with prog arrangements, while Astonish Me is more mellow but some definite commercial prog touches. Let Your Man sees the band crank everything up to 11 too.
All three albums are great hard rock, a perfect balance of prog and FM oriented hard rock, and bar two of the CDs giving conflicting years of release, they sound good and have extensive sleevenotes, featuring interviews with Kim Mitchell; superb.
All ****
Review by Joe Geesin
---
| | |
| --- | --- |
| | Print this page in printer-friendly format |
| | |