MARCO TANSINI Blues Garage Tanzan Music (2012)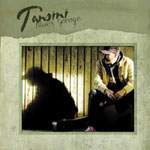 Best described as a first class blues guitar instrumental album, or ten colour coded tracks with a blues heart, a funky soul and a jazzy sophisticated edge, Marco Tansini's 'Blues Garage' is a superb cd that should be sought out by all guitar lovers.
Italian guitarist Marco Tansini has cut a startling 70 albums in a career that has a long way to go before being he could be described as a veteran. And far from dulling his spirit, 'Blues Garage' is an inspirational work. It's a barometer of good taste, played by the touch of a master who unravels a wide variety of deep tones and digs deep for the kind of real feel of a true blues guitarist. But unlike many of is contemporaries Marco avoids cliché by treading a delicate line between the stripped down essence of compositions and the full production possibilities of his majestic playing.
He's a guitarist who understands the value of dynamics and is a player who rarely breaks sweat in a style that is seemingly as effortless as it is intense. And through a combination of beautifully delivered note flurries, an unhurried technique, and a variety of delicately nuanced tones, he engages you in a guitar led conversation that is as articulate as it is adventurous and exciting.
While many guitarist struggle to make their presence felt without the need for speed, volume or repetition, Marco proves himself to be a master of tone and dynamics who sets himself little musical puzzles and resolves them imaginatively in a variety of wonderful solos that explore the full range of his musical influences
He also pulls off the not inconsiderable challenge of recording in a very live and organic way while exploring moments of real sophistication and sonic splendour.
And buried deep down at the core of his music is the ghost of Roy Buchanan as evinced by several magnificently realised wah wah breaks, as on the opening 'Brown' - topped and tailed by a distant sounding rain shower - and the altogether tougher 'Amber'. Then there's his intuitive use of tone control, occasional volume swells, string bends and a harmonic emphasis that gives his blues based style such light and shade, or should I say colour?
Blues Garage' is after all colour conceptualised album with tracks like the tightly wrapped funky feel of 'Orange' (perhaps symbolising the colour of a traffic light half way between stop and go) leading us into his blues roots on 'Green'. The he moves to the colour 'Cherry' (Red) for a perfect band outing on which the guitar and organ intermesh imperceptibly before Marco gently slips into rhythm mode on the outro.
Given the fact the title track provides us with his most succinct musical statement, maybe I'm reading too much into the colour scheme of things, but either way this is music worthy of its colourful titles.
'Green' enjoys a strong percussive feel and evokes the understated playing style of the late fusion guitarist Eric Gale, aligned with Mark Knopfler's melodic bent. And Marco settles for the colour 'Purple' on a dip into some Zeppelin riffs, albeit there's a dramatic tempo change allowing him to revert to a laid back groove for more expressive ringing notes and a neatly crafted finish bathed in feedback.
But there's more to Marco's armoury than a one party trick. He's a master of dynamics who frequently holds back to let a note resonate and fill the gaps. The title track is a perfect example, being an exercise in cool and restraint with a gently voiced piano part, a tic-toc rhythm track and long linear notes, with a beautifully nuanced pause at just over the three and a quarter minute mark before the band comes back in again.
As with all great albums there's a lovely flow to the sequencing which makes the penultimate track 'White' stand out as an essential restatement of his simple but effective blues style. He just about rises above the cymbal bluster and pounding bass drum work to settle into a muscular groove that is the end result of an oft revisited dichotomy between tightly wrapped note clusters and a laid back feel. The resulting equilibrium leaves Marco to divert the musical tensions to his own ends as he weaves in and out of the space to solo incisively.
Predictably perhaps, 'Blues Garage' finishes on the colour 'Black', a number that has a late night, post-party bluesy feel, with a cool Hammond solo. Marco contents himself to playing some gently strummed chords before a magnificently delivered final solo that soars into the night. It's the perfect finish to a hugely enjoyable album and one that is an essential purchase for any self respecting guitar fans.
*****
Review by Pete Feenstra
---
| | |
| --- | --- |
| | Print this page in printer-friendly format |
| | |