LIL' ED AND THE BLUES IMPERIALS Jump Start Alligator ALCD 4949 (2012)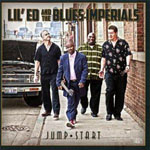 Lil' Ed And The Blues Imperial provides a direct link with the Alligator label's musical roots in the shape of Hound Dog Taylor. There's the same primal force and unfettered energy, but Ed's jagged slide led roadhouse blues had developed into something with a little more finesse.
Lil' Ed Williams slide playing matches that of his vocal phrasing. For every lyrical phrase he offers a slide led repost to immerse us in a conversation with the blues. The aptly named 'Jump Start' is a blues shot to the system. It's the kind of album that reinforces the familiar staples of the genre, be it love, loss or longing.
Ed's visceral style is fuelled by a down to earth intensity, husky vocals, and painstakingly delivered licks all backed by a kick ass band. And on the evidence of tracks like 'You Burnt Me', Ed has improved his singing immeasurably. So much so, that on the partially alliterative 'Musical Mechanical Electrical Man', he even adds the kind of rhythmic delivery to his vocal phrasing reminiscent of a jazz singer.
The Blues Imperial back Ed to the hilt on the hi -octane 'House of Cards' on which the walking bass line of James 'Pookie' Young and the metronomic drums of Kelly Littelton shape things up beautifully, while providing an uplifting momentum over which Ed shreds with great enthusiasm.
'Jump Start' comprises well balanced dynamics with plenty of variety, ranging from subtle changes of rhythm and tempo to different toned solos. The slide led grooves draw on Chicago blues with plenty of swing, all brought to life by Ed's excellent vocals.
The smouldering 'Life Is A Journey' is a step up for the normally hyper active front man, being a slow burning blues full of deft brush strokes, cool organ and carefully enunciated lyrics with well rounded notes that speak a thousand words. The deep blues feel is revisited on the self penned 'My Chains Are Gone' which is another slowly evolving piece that suggests a new maturity to Ed's previous good time style. And for sheer variety there the aptly titled 'Jump Right In', which applies equally to the musical arrangement as it does to the lyrics with Michael Garrett adding some spindly angular guitar parts.
The song writing team of Ed and his wife Pamela contribute 8 of the 14 tracks and they close with a languid shuffle 'Moratorium On Hate', complete with a chanted hook and a self help political message. The band's bottom line is that they aim to take back their neighbourhood. The poignant and relevant rooting of the future in the musical past mirrors the best bits of a very enjoyable album.
*****
Review by Pete Feenstra
---
| | |
| --- | --- |
| | Print this page in printer-friendly format |