LESTER B Blindsided (2012)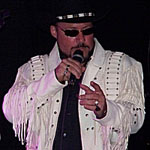 Lester B is a big talent with a baritone voice to match and a musical vision that is thrillingly fulfilled on an album which rocks as hard as it is polished in its delivery.
The Stetson wearing vocalist hails from Toronto in Canada but his booming baritone is schooled in southern and classic rock and it's the combination of his musical diversity and arresting vocal style that makes this cd an absolute triumph. He knows how to carry a note, when to hold back and when to emote with a full throated swoop. He's a musical outlaw who has apparently come in from the cold and kick started his career from being a southern rock legend in Canada (!) to forging his own style with songs worthy of the voice that that delivers them.
This must be the first album in living memory to surpass the claims of its PR people, who tell us 'Blindsided' is 'unique, eclectic, powerful and passionate with memorable lyrics and catchy melodies'. It is indeed all those things and more, a big visceral work with a big sound, played by a whip crack band with fine backing vocals and eleven songs that demands your attention as they rock their way through every possibility.
There can't be many rock bands with the balls to open their album with an explosive version of Jefferson Airplane's 'Someone To Love', but Les pulls it off with a cracking version that breathes fresh life into the west coast classic
He then positively leans into the smouldering southern rock ballad 'Tear Me Down' before the title track further explores his aggressive Nic Cave vocal style on what sounds like an autobiographical tale of lost love. Everything about the song fits perfectly from the stop-time dynamics and rock solid rhythm track to characteristic soaring vocals and deft guitar work. You get the feeling that Lester doesn't do things by half as he takes songs by the scruff of the neck and dominates every minute of them, wringing out every last possible emotion with his phrasing.
Sure there are distant echoes of say Kansas and Boston - the vocal are that good - but this is a much more organic album on which the intuitive production strikes the perfect balance between sonic clarity and a live feel. It the mixture of Lester's passionate vocals and producer Peter Swann's sharp arrangements that gives the album its grandiose feel The crystal clear sound quality owes much to the mastering of a record that demands sonic excellence.
Above all 'Blindsided' flows on the back of Lester's intense performances on outright rockers and stylish ballads. His deep phrasing is reminiscent of Iron Butterfly's Doug Ingle, as he trades alternate lines with Krysta Wassenberg on 'Sucka'. The two later repeat their liaison just as effectively on the melodic rocker 'Save Me'
The meticulous production pays due attention to the pacing and sequencing of the album with the result that it achieves a further lift off with the mega power rock ballad 'Walk Away' which surely deserves radio play. There's still got to be room for an album like this if only because it oozes quality and updates the Detroit rock sound of Bob Seger. On the sleazy 'She's The One' Lester adds a swamp rock feel with country edges that would grace Tony Joe White's song catalogue, while the twin guitar led 'Dance Like You Need The Money' rocks out with more sleazy intent.
There's a potent quiet/loud dynamic on 'Can't Stop This' which is a kitchen sink and all, cross-genre rocker with a chanted hook and a social message. And producer Swann opts for layered vocals on 'Save Me' as Les evokes the voice of the late Jacky Leven before he dips into his second cover of the session with a funky and percussive 'Love is the Drug'. The song may be slightly at odds with the rest of the album but it hits a confident groove and is topped by a ripping wah wah solo.
The album finishes on a slow burning, string led ballad 'Wings' which is saved from a fate worse than REO Speedway by Les's aching vocals on a song that gives full reign to his formidable vocal range.
Given that most rock fans outside of Canada have probably never heard of Les B, 'Blindsided' is effectively a showcase for a vocalist who effortlessly re-ignites rock's essential spark. He revisits the classic rock genre, dips into southern rock and finishes with an MOR rock ballad, but hell with a voice like that he's entitled to give anything a shot.
*****
Review by Pete Feenstra
---
| | |
| --- | --- |
| | Print this page in printer-friendly format |
| | |