LEDFOOT Gothic Blues: Volume One Hypertension HYP 12286 (2012)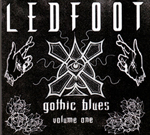 Ledfoot is the stage name of one Tim Scott McConnell, who in the course of little over three hours has cut a gut wrenching story of his life that aptly provides both the title and loosely based concept of Gothic Blues. Ledfoot appears to be a long lost cousin of Keith Richard except for the fact that he's American and really does appear to have lived the life he's singing about, as opposed to the millionaire Stones guitarist who makes a handy living talking about the life he imagines he lives.
That's said, Ledfoot's 'Gothic Blues Volume One' would ring equally hollow were it not for a combustible mixture of handy twelve string guitar work and an unerring lyrical focus that gazes the afterlife straight in the face, oh and the little matter of his admirers who range from Dylan to Springsteen. As it, is the former trailer trash survivor Jim is very much alive but he apparently does his living by night, not necessarily after dark you understand, but by pushing his damaged psyche through the grinder and trying to make sense of his life in the context of the Gothic Blues' album title.
Nick Cave really does have a lot to answer for, but whereas the l'enfant terrible of letters conjures up brooding and violent imagery, Ledfoot's gothic blues appear to be about his life as it is. So while there's a rich gothic lineage stretching back from Jim Morrison to Marylyn Manson and the more ethereal Dead Can Dance, what distinguishes this album is not just the raw gut emotion and disarming honesty of his dark lyrics, but simply that Ledfoot is still living every moment of pain, every disappointment and every and every turn of screw as he travels down his own 'Purgatory Road'.
Even then, Ledfoot is different from his contemporaries and his predecessors because his gothic blues is as much a state of mind - the trauma of a troubled psyche - as much as his fractured existence. His evocation of the jail cell in 'Cold Light Of Day' is all too real. He transmits his feelings with an 'in the moment' intensity that takes the listener through both the mental and physical torments of the narrator; 'In My cell there's a window, But there isn't much to see, 'cept for ten minutes daily, when that sun shines on one me'.
He's predictably feted in France where they love the legend of Rimbaud, along with a sense of drama and a 'personage', but it's actually Norway that has provided Tim with a home and label. Perhaps the clean living Nordics also like to sublimate their dark side through music and poetry. If so, Tim is their man as song after song provides a relentless journey through his own traumas. He confidently hangs on a note, extends pregnant pauses and whispers his phrases to make sure the lyrical meaning resonates round the room as strongly as his 12 string. This is particularly so on 'Sound Of The Sun Going Down' which a fleeting rumination on his life on lyrical equivalent of a dripping tap.
But while some of his songs really do stir the deepest of emotions there others such as 'How to Loose Your Innocence' and 'Digging My Own Grave' which suggest he's not so much a victim of a bum deal as a cynical commentator of events that are by no means predetermined. 'Digging My Own Grave' also contains a clever mock mistake on his guitar that he uses as a metaphor for his life; 'I'm fucking upůmy whole life, I know I'm screwed, I guess I'm born to lose'
Far closer to his truth is 'Hanging Tree' which full of mesmerising guitar work and the closest he gets to a tender love song, though his imagery is still full of lines like 'purge you from my soul' and 'please cut me free from this hanging tree'. Then there's the unrequited lovers desperation of 'I Dream Of You Tonight' on which he again appears doomed; 'So tell me what else I can do, I've been a devil, poet, fool'. while 'Unforgiven' is a song that makes a case for being an outsider, whether in love or on society's periphery; 'I Could try for a thousand years, And still I'd not belong, why should I care at all, if I've done something wrong'.
In a world where the artifice of society is fast crumbling on the back of corporate greed and impending financial ruin, there's probably less of a market for this kind of self obsessed Noir Blues, than there might have been a decade ago. But for those who wish to revel in 12 string poetic gothic blues, you could do worse than explore your dark side in the presence of a man who has long transcended the blues genre to generate his excruciating poetic lines as if they are his last on earth.
****
Review by Pete Feenstra
---
| | |
| --- | --- |
| | Print this page in printer-friendly format |
| | |