JOSHUA MOSES Joshua To Jashwha Bristol Archives ARC 250CD (2012)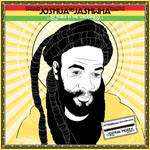 'Joshua To Jashwha - 30 Years in The Wilderness' is a well researched and thoughtfully sequenced compilation album that traces the spiritual journey of Joshua to the phonetic Jashwha. It also provides reggae and music fans in general with an overdue collection of Joshua Moses's recordings that are both consistent and imaginative enough to confirm the merits of his PR, which boldly states; 'Had Joshua been living and recording in Kingston he might well have made a major impact on the reggae scene.'
And while somewhere along the line Bristol's significant musical history got overlooked, Bristol Archive records is a label well placed to redress the balance and shine an overdue spotlight on artists like Joshua Moses.
The album is topped and tailed by 'Africa (Is Our Land)' and the closing Dub version of 'Home' which provides the 'the A & B sides of the 12 inch single with Denis Bovel. The opening track features Joshua's arresting vocal with rich backing vocals, layered keyboards, dappled bass, crisp percussion, echo reverb and a lovely uplifting chorus that sets a high standard for the rest of the collection.
Joshua Moses is a culturally aware lyricist and expressive singer with nailed down grooves and he is a dab hand at dub remixes, especially on the accented beats and echo reverb of 'The Suffering (Dub)'. He's also got an ear for commercial potential as evidenced by the hypnotic groove of 'House of Dread' which owes a lot to Prince Buster, and the percussive groove, repeated keyboard riff and catchy call and response hook of 'Stick It Up'
The repeated rhythmic patterns and subtle modal chord progressions hit the spot and there's certainly a consistency of quality and performance on songs like 'Rise Up' that wouldn't disgrace the likes of Marley's song catalogue. But if there's a down side it's simply that in waiting all these years to be discovered, time has moved on and Joshua's music is almost a restatement of a style that peaked commercially a couple of decades ago.
The twenty year gap between 'Rise Up' and the following 'Steel' which was recorded in 2003 sees a broadening of instrumentation with a crisper production with more solid call and response vocals. And then there's the Rasta devotional song 'Bobby Wrong' in which he delivers an emotive falsetto not unlike Curtis Mayfield and Alton Ellis. His effortless high register phrasing - repeated on the outstanding 1983 cut 'Children Of The Light' - was obviously part of a creative hot streak that year.
'Protection' sounds like a decent song in search of a better recording as his vocal is mixed much further back with a greater emphasis on the rhythm track. And then out of nowhere comes the bluesy acoustic intro of the excellent 'Distant Guns', a song with real roots crossover appeal and the album finishes on the co-write with Dennis Bovell from the late 70's.
'30 years in the Wilderness' achieves its goal in focussing our attention on a versatile reggae singer with heartfelt lyrics and frisky arrangements that keeps the 15 tracks fresh and coherent. It's not often you hear an original voice on the reggae circuit but as Joshua enjoys his rebirth as 'Jashwha' this album provides him with an impressive and overdue calling card.
****
Review by Pete Feenstra
---
| | |
| --- | --- |
| | Print this page in printer-friendly format |
| | |