JON HERINGTON Time On My Hands Wise Axe WA-080312 (2012)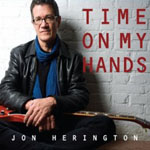 You don't really need to know that guitarist Jon Herington's CV includes a stellar cast of top players from Donald Fagen (who guests on here) and Boz Skaggs to Michael MacDonald and Phoebe Snow, as it's readily apparent in his playing. Each solo is carefully constructed but imbued with enough spontaneity and imagination to take a rock solid groove into an unseen direction.
Sometimes he slips into spiralling solos, sometimes he's even momentarily brusque, but as on the humorous computer jargon of 'eGirl', his playing is as consummate as it is understated. Each line is full of potential options, intricate suggestions and magical little dynamics. And when they all come together as on 'Time On My Hands' they make this album sound like the kind of after hours session that Steely Dan never recorded, but should have done.
From the opening buzz guitar, good time feel and catchy flow of 'Shine Shine Shine' to the magisterial funk, rapid time signatures and searing solos on the closing 'The Bucket Song', this is an album that will delight guitar playing connoisseurs and general rock fans alike.
'Sweet Ginny Rose' explores a Bo Diddley beat and eastern drone and Jon adds a Robert Cray styled narrative to the mellifluous funk of 'I Ain't Got You' in a celebration of sophiscated cool.
Aside from his scintillating guitar playing Jon is also a thoughtful song writer who crafts his lyrics with the same dedication as he launches the spiralling guitar lines of the tightly wrapped title track. And just when you think he's revealed his full hand, he dips into the unexpected acoustic wash, harmony laden word plays and glockenspiel punctuation of the delightful 'Runnin' Out of Time' which reveals cute couplets like; "Your hair is a mess and so is your dress, Your eyes always show what your heart never wants me to know".
And having explored his mellow side, he changes lanes for the repeated riff driven blues-rock and Beatlesy bv's of 'I'll Fix Your Wagon'. Then there's the outrageous slide and steaming funky groove of 'I Hear They Shoot Horses' on which Jon explores some lovely jazzy interplay with Jim Beard on electric piano.
Truth to be told there isn't a weak track on this album, with Jon's vocals a synthesis of Steve Miller, Boz Skaggs, and Les Dudek, bolstered by an excellent production that emphasises his lyrical phrasing as much as his mesmerising playing
Donald Fagen joins in the fun, adding piano on the opening to 'Caroline Yes', which is a laid back shuffle that gives his excellent band the opportunity to stretch out. One minute it's a regulation work out and then next Jon solo's with alacrity, enjoying the moment with Fagen on keyboard accompaniment. As always, the second solo takes things up as he weaves in and out of the track eloquently.
There are so many highlights here that it really does sound as if Jon has waited a long time cut loose on his own. And given the opportunity he's proved himself to be a strong song writer, adept producer, consummate guitarist and adroit band leader who know's exactly what he wants. He's a renaissance man with plenty to say and the chops to do so eloquently. An unexpected delight this is one of my favourite albums of the year so far.
*****
Review by Pete Feenstra
---
| | |
| --- | --- |
| | Print this page in printer-friendly format |