JOANNA DEAN Misbehavin' Yesterrock(2012)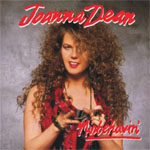 The re-release of a remastered version of a bluesy hard rock 'big hair' album from 1988.
On its original release on Polydor, the album garnered critical acclaim, in particular for Joanna's rip-roaring vocal style likened by many to Janis Joplin, Bonnie Raitt and Maggie Bell.
And while she toured the States and made a short excursion to Europe to promote it, success never came calling and, as far as I can tell, the singer, songwriter, musician only ever made one subsequent album - Code Of Honour (1991) as part of the equally short lived Bad Romance.
So has Misbehavin' stood the test of time? It's certainly nice to see some of the more obscure releases from the time being dusted down and given a welcome airing. And if you like your guitars' big, your hair big, and your vocals even bigger, it doesn't disappoint.
There's really only one word to describe it 'raunch'. OK, it may be a bit clichéd, a bit 'cheesy' and a bit' tongue in cheek' in an AC/DC sort of way. But it sums up perfectly a much overlooked era. ****
All those evident influences might make you wary but, actually, The Brew manage to sound pretty contemporary. 'Classic' rock as it should be served, with soul.
****
Review by Pete Whalley
---
| | |
| --- | --- |
| | Print this page in printer-friendly format |