JETHRO TULL'S IAN ANDERSON TAAB2 EMI (2012)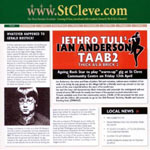 Sadly, we're all getting older. You, me, Ian Anderson and - Gerald Bostock. And just as we reflect on 'what might have been', TAAB2 finds Anderson musing on what could have become of the child prodigy at the centre of Tull's 1972 masterwork.
Dismissed by Anderson on several occasions as a 'daft idea' he was eventually persuaded by ex Gentle Giant Derek Schulman to think seriously about a TAAB sequel. And many will, I suspect, be dubious of Anderson's ability to serve up a prog concept album in 2012. After all, it's been 13 years since Tull's last outing - 1999's Dot Com - and his own solo work has tended to veer away from rock.
It's also arguable where the boundary lies, if indeed there is one, between the Ian Anderson and Jethro Tull marques. In this instance, TAAB2 cleverly wears them both courtesy of an apostrophe, presumably in acknowledgement of the unexplained absence of long term Tull partner in crime Martin Barre.
On this occasion, guitar duties are performed, more than ably, by Florian Apahle with the other players Scott Hammond on drums and long time stalwarts John O'Hara and David Goodier.
I'll admit to as much scepticism as the next man about this project, but by some remarkable feat, Ian Anderson has managed to pull a rabbit of Harvey sized proportions out of the proverbial hat and delivered an album that is a genuine and worthy companion to TAAB.
I'm not even going to attempt to deconstruct TAAB2, sufficient to say it is quite possibly Anderson's finest hour since 1972. And like any self respecting prog concept piece it needs to be absorbed and enjoyed over many, many plays.
But even a cursory listen, with it's subtle referencing to it's predecessor, reveals this to be a work of indisputable depth.
Which is a quite astonishing achievement and one that finds Anderson's 1976 pronouncement of being 'too old to rock 'n' roll' premature by several decades. Absolutely fabulous.
*****
Review by Pete Whalley
---
| | |
| --- | --- |
| | Print this page in printer-friendly format |