INDIGENOUS 'Indigenous featuring Mato Nanji Provogue PRD 7390 2 (2012)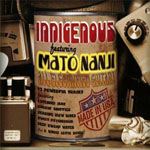 The cover of Indigenous's 8th album 'Featuring Mato Nanji' features a tin with 'Made in USA' stamped on it. It's an accurate description of the post SRV trademark rock/blues fare to be found within. But of course Mato is a native Indian which provides some sort of cultural twist to the hoary old genre and on tracks like 'I Was Wrong' he brings shades of Santana into the mix.
In fact the band now features but two of the original quartet of related members of the Sioux tribe, with guitarist Mato Nanji being joined by and his cousin American Horse on percussion. And it is the bright percussion and Jeff Martin's hard drumming - most obviously on tracks like the instrumental 'Storm' - which provides this smouldering slab of rock/blues with its brightest moments.
Much has already been written about Mato's SRV influences but there are several echoes of the early 70's British school of rock-blues with big chords and potent guitar breaks.
The muscular opening duet with Johnny Lang on 'Free Yourself, Free Your Mind' is an immediate highlight, as Mato pushes his guitar to distortion levels. 'Jealousy' is a good example of fluent hard driving rock with a shimmering swampy guitar motif and a good hook and 'Someone Like You' emphasises the locked in percussive groove and heavy tones over a sledgehammer groove.
If there's a down side it is Mato's husky vocals. His part SRV and part Jeff Healey is well suited to world weary rock-blues genre, but over the course of ten tracks it's a bit wearing and saved only by some imaginative percussion and soaring guitar playing. And what playing! Mato really leans into his solos making the most of a range of material that will appeal to most rock blues fans with 'I Was Wrong to Leave You' being a reprise of the earlier nuanced Santana style on a smoking blues.
Co-producer Mike Varney puts the emphasis squarely on the guitar and by the time of 'No Matter What It Takes', Mato really hit a deep groove with some heavy duty guitar work on a 'Crossroads' style tub thumper, and he's in his element on the shuffle rhythm and incisive soloing of 'All Those Lies', on a song well suited to his growly vocals.
Mato is a groove player who likes nothing more than exploring a song for it dynamic possibilities, building up a tension and then firing off a slowly ascending solo to make his point. Each choice of note and phrase is like an unhurried conversation as all around him rock purposefully.
The Hendrixy 'Wake Up' is another slow burner full of tablas, and is well suited to his eloquent style while the grungy but imposing tone of 'When Tomorrow Comes' provides a well judged mid-tempo blues finale.
'Indigenous Featuring Mato Nanji' works as an essential showcase for a deeply chiselled slice of rock blues, in which the primacy of the guitar will appeal to lovers of old school rock blues.
****
Review by Pete Feenstra
---