HYDROGYN Private Sessions (2012)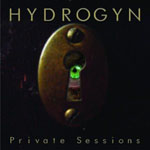 Hydrogyn are something of a guilty pleasure. They may like to portray themselves as heavy rockers and flaunt the more obvious 'assets' of their voluptuous front woman Julie Westlake, but you can't help but think that behind the scenes their idea of R 'n' R is more likely a diet coke and walking the dog rather than partying hard and unleashing the hounds of hell.
But if, like me, you have a weakness for female fronted rock that treads that delicate line between hard and radio friendly rock that Pat Benatar once dominated, then Hydrogyn are well worth investigating. And what's wrong with a little escapism?
Private Sessions, the band's fourth studio release follows the band's modus operandi established by Bombshell (2006), Deadly Passions (2008) and Judgement (2010) with some fairly bombastic guitar riffing courtesy of the band's founder Jeff Westlake, counter balanced by Julie's melodic vocal lines, and hooks of Kiss sized proportions big enough to reel in a great white.
That is, with the exception of the rather 'out of place' Roseline's Song - a sickly sentimental number of Styx Babe proportions. Unless, that is, Julie wanting to be taken up the aisle is a euphemism. Sadly, I don't think it is.
Really, the band's material has 'stadium fillers' stamped all over it, but for some strange reason they've never quite taken off. Wrong place, wrong time, I guess. But in the meantime, Private Sessions continues to proudly fly the flag for female fronted rock. A couple of gripes though - what's the justification for different continent track listings (other than to exploit fans)? And a track only in French? Ont-ils devenus fous?
****
Review by Pete Whalley
---
| | |
| --- | --- |
| | Print this page in printer-friendly format |