HOMERUN Black World Tanzan Music (2012)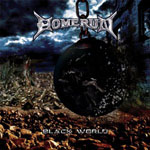 Italian band Home Run have released their second album 'Black World', which finds the band with not only a new rhythm section but a new guitarist - however on listening you could easily believe they have been playing together for years.
The bandís sound is modern melodic rock with touches of modern prog thrown in for good measure. Kicking off the album with a musical intro track that gives way to the keyboard driven 'Silenceís Broken'- and from the off the strong vocals of Matteo Albarelli remind me of someone but I just canít think who, they have Firehouse and Slaughter qualities to them but not enough to pigeon hole them there.
Heavier tracks 'No More' and 'The Golden Cage' are the ones that immediately stick out here. Then we have 'As We Did Before' which has a piano and vocal intro which balloons into a big, dramatic ballad complete with some great guitar work. The albumís title track itself has echoes of Velvet Revolverís 'Slither', whilst 'Lipstick' could be cheekily likened to AC/DCís 'Sin City' but with keyboards.
'Firefly' has an Ď80ís feel to it, 'Intoxication of Love' feels like it is almost pushing for a drum solo at times but instead the guitar solos steal the day here. The albumís highlights are rounded off by tracks 'Ephimeral Light' (which I bet sounds great live) and the acoustic version of 'No More' which appears as a bonus track.
Homerun sound like they could be a promising live act and certainly one to keep an eye out for.
*****
Review by Nikk Gunns
---
| | |
| --- | --- |
| | Print this page in printer-friendly format |
| | |