HI-FI The Complete Collection Rockville (2012)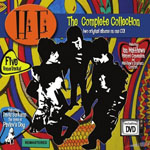 Hi-Fi was a short lived, early 80s band featuring former Pavlov's Dog vocalist David Surkamp and Fairport Convention/Matthew Southern Comfort and top 20 singles artist Ian Matthews. And as is often the case with a band featuring two apparent disparate talents, the project came about in a haze of mutual disillusionment. But with boundless energy, just enough material and 3 guitars in the ranks (Bruce Hazen is on third guitar), Hi-Fi had a musical statement to make.
The band originally cut a 5 track live EP under the title of 'Hi-Fi Demonstration Record', and later recorded an album 'Moods for Mallards' as well as a Christmas single, plus some belated Surkamp tracks added here as a bonus. The 20 tracks and DVD are a de facto summary of a band who had jettisoned their collective baggage to kick out the jams with a post punk/new wave energy that brought out the best of both Surkamp and Matthews
'The Complete Collection!' is a triumph of interesting up tempo arrangements, lashings of guitar riffs, Surkamp's uniquely imposing vibrato and Ian Matthews's prominent role in the band. This is especially evident on the accompanying 5 track DVD with telling interviews that humorously poke fun at the fact that both David and Ian had no interest in the other's music, but undoubtedly sparked when playing together.
There's an undoubted tension born of different personalities, but it fuels a rip roaring session that would have been lost to the world but for this excellent new release.
All in all, 'The Complete Collection!' is an excellent compilation, and although some of the music is very much of its time, there's plenty of sparkling band interplay. For every synth embedded moment and new wave nuance there is a strong song based band performance to compensate, as exemplified by a cover of Prince's 'When You Were Mine', which is predicated on a programmed synth line, chiming guitars and angst ridden vocals.
Curiously this track and the equally impressive 'Throw Me A Line' finds Surkamp's edgy vocals pre-dating Arcade Fire by a couple of decades.
Most of the material sounds fresh, exciting and just about on right side of the gritty power pop.
Opening with a bristling guitar instrumental 'Savage', the band head straight into the big hitting 'Heart Of Mine', which is arguably the best Surkamp/Matthews collaboration. David counts in a funky groove which makes great use of three part harmonies and a magnificent wall of guitar sound with spiky solos.
'I Can't Fade Away' also appears on the DVD and is a new wave piece with chopped chords and a Tyla Gang feel, and is very much of its time.
'9 O'clock' sounds a bit like Tom Petty as David fills the track with his effortless vibrato over the three guitars. Best of all is a cooking version of John Martyn's 'Man In The Station' with its big opening guitar riff and as the band jams out on a brilliant arrangement, Ian takes the lead and the guitars spar thrillingly.
David's 'Walk Away' is also a veritable lost nugget, and is superbly showcased on the DVD. There's also a change of mood and pace with the brooding feel of another DK/IM co-write 'Holding Out For Rain', the hi-energy 'Throw Me A Line', and Ian's minimalist 'SOS', which combines a news snippet, electronic handclaps, a processed voice and a constant synth pulse. It all works superbly well as a collage before Surkamp's vibrato rises again on the catchy hook of 'Knocking On Your Door'
There's a real energetic feel to the sessions that on occasions makes some songs special and at other times rescues a few lost causes with unquestioned commitment. This is especially so on the sleazy Ian Hunter style vocals of 'Desire'.
And buried in the middle of 5 bonus tracks is the quite magnificent 'She May Call You Up Tonight'. With its booming chorus and essential band interplay - all superbly captured on the DVD - it's hard to believe this was an outtake. The 20 track compilation finishes with a cover of 'Louie Louie', complete with a robotic rap by guest Curtis Grey and an unlikely but totally convincing big choral finish.
'The Complete Collection!' has an inherent irreverent feel and boundless energy that borders on optimism. And if the good times didn't last, then at least this compilation is the very best reminder of a great musical project.
*****
Review by Pete Feenstra
---
| | |
| --- | --- |
| | Print this page in printer-friendly format |
| | |