HASSE FROBERG MUSICAL COMPANION Powerplay Gentle Art Of Music (2012)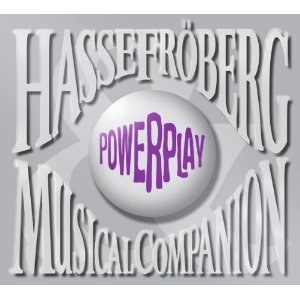 Hasse Froberg, for those not in the know, is the vocalist/frontman from Swedish mega-proggers the Flower Kings, and this is the sophomore album from his side-project Musical Companion.
He put together a coterie of stellar musicians on his first outing (Future Past) and they apparently had so much fun that they've all turned up again for another go - this time with fellow Flower King Tomas Bodin in the producer's chair.
If you can imagine a chimera of Rush and Yes fronted by Deep Purple's Ian Gillan you can begin to picture where they're coming from.
There are two 'epics' here, the opener 'My River To Cross' and 'The Final Hour' both clocking in at over ten minutes apiece and both taking a thousand twists and turns in musical direction as they go, and there's sufficient variety through the rest of the tracks to keep your average prog fan moderately interested - although the introduction of religion (once again) into the mix ('Godsong') somewhat pisses on the album's chips.
I have to admit, I expected slightly better from one of the top European progressive musicians though. The music is excellently played by top musicians, and like I said there's a reasonable variety of tempo changes throughout, but I found my attention wandering on more than a couple of occasions (especially on the dire 'Venice CA' and the abysmal 'Godsong') and felt like this was 'prog by numbers' really - slavishly following the Yes/Rush/Flower Kings template without carving out an identity for itself.
This is a shame as the musicianship deserves repeated listenings - but, if it's a bit of originality you crave, dust off your copies of 'Moving Pictures' or 'Close To The Edge'.
***
Review by Alan Jones
Alan sequences "The Eclectic Mix" on the third Sunday of every month on Get Ready to ROCK! Radio, and usually manages to include some prog.
---
| | |
| --- | --- |
| | Print this page in printer-friendly format |
| | |