GRUHAK Make A Stand Gruhak Music (2012)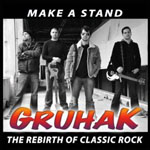 Gruhak is Croation slang for 'a very loud person' and Gruhak the band take this concept and adapt it to their own concept of 'The rebirth of Classic Rock' and 'The true spirit of Classic Rock'. And while it's hard to argue with the band's claim to the middle ground of rock music this isn't so much a rebirth as an impressive recycling of the staple constituents of the genre..
There's a proud spirit of independence here from the excellent musicianship to the self proclaimed DIY production and engineering, both of which is excellent. But it's an album that sometimes has you scratching your head just to make sure it's not a lost Boston, Kansas or Zeppelin release.
If there's a chink in the band's armour it is simply their slavish adherence to a music genre that somewhere along the line sold its hard rock soul to corporate AOR. This of course isn't Gruhak's fault. They have after all produced a dozen self penned tracks that are well conceptualised and faultlessly played, shifting from the slow building, lung bursting acoustic/electric rock ballad 'Free' to the self titled, flat out boogie finale.
It's a retro musical journey with well structured songs full of many classic rock influences, but its isn't until the slow burning big rock ballad 'Into the Night' that they really reveal their true selves and engage you with a climactic arrangement.
The down side to an album like this is that much like Nickelback they are playing thinly disguised formulaic rock. Given the recent upsurge in recycled rock blues from the likes of Black Country Communion it might seem churlish to question a band's retro direction. And while there's no doubting the passion, commitment and the strengths of their songs, let alone the superb vocals of band leader Boris, half way through the album you yearn for something with a spark of originality.
They nearly get there on the acoustic, harmony driven 'Your Song', which asks the question 'can you feel it?' and by the close of the song you really do get into the vibe.
'No No No' steals a Faces riff on the intro and rocks with plenty of bluster and will doubtlessly be a stage favourite, while 'End of Days' relies on a Zeppelin riff and slips into a Free style work out and some Jim Morrison vocal stylings over a quiet /loud dynamic. If nothing else it's the kind of track that shows a hungry rock band with the chops to pull off all their musical ambitions.
There's a lovely mandolin and gentle acoustic blend on 'So Much To Say' which is another layered classic rock track full of sparkling musicianship with a Marshall Tucker style southern rock feel right down to the guitar/piano break.
Guitarist Ivan adds more Jimmy Page licks on 'Same Kind of People'. It's a song that doesn't quite live up to its familiar intro, although it does have some nifty picking. 'Mother's Son' is better, making good use of some power chords, a rasping lead vocal and a guitar driven intensity and that provides Gruhak with one of the best hard rock tracks on the album.
The whole thing is wrapped up by 'Gruhak Boogie', another obvious live favourite which sounds like the late Bon Scott at his best.
The band throw in a bonus 15 track Classic Rock covers album as if to underline their youtube cult status as 'the best ever Classic Rock cover band'. It's a claim that obscures rather than enhances their own efforts, best to stick with the original material.
****
Review by Pete Feenstra
---
| | |
| --- | --- |
| | Print this page in printer-friendly format |
| | |