GREG GOLDMAN Cathexis Cedar Studios (2012)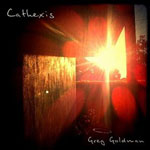 Appearances can be deceptive. The barely discernible art work on this CD disguises a masterpiece of an album by an artist whose mult instrumental and production versatility matches that of his song craft.
Greg Goldman tells us that Cathexis is the 'investment of psychic energy in a given object'. He uses this energy to produce lovingly crafted album full of sun drenched songs with subtle sonic sub texts and ever present harmony vocals which suggest Brian Wilson as an influence. More than that, he achieves the same impact as when these teenage ears first heard the Beach Boys.
'Cathexis' does indeed sound full of psychic energy and lots more besides. Greg pens elegant compositions and explores magisterial musical moments delivered with a lightness of touch as he sings from the heart, on an album that straddles gentle west coast influences and jazz fusion. He never restricts himself to anything too limited and thinks nothing of extending a vowel or transforming a lead line into something else. He creates an exciting, shifting musical tableau full of beguiling music, sweeping arrangements, intricate rhythms, mellifluous vocals and a stellar production that brings light and shade to 13 vibrant interlocking tracks.
There's a summery feel-good vibe about this album that sweeps you off your feet, with some airy melodies and lovely vocals that switch from lyrical enunciation to backing vocals in the blink of an eye.
Each track builds on the previous one, on album that leads you to try and second guess what he has in mind next.
'Center of The Universe' for example, is a jaunty acoustic piece with a 10cc style doubled up harmonies, layered keyboard and locked in guitar parts. 'Apropos' provides another subtle vocal wash and comes with a voluminous swell on the outro and there's clever rhythmic phrasing on the acoustic driven 'Drop The Anchor' with a tautly extended finale.
On 'Recipe For Ruin' Greg adds some Steely Dan style funk with synth explorations and a mid-section keyboard motif that anchors the track. He adds modulated tones and a jazzy guitar line to the kind of sumptuous groove that you really don't want to end. The music on 'Cathexis' draws you in, as on the train time 'Paragon' with its uplifting bv's, while the acoustic led 'Forty Nights' could be McCartney with the emphasis squarely on harmonies.
You could imagine Greg working with the likes of George Martin or Jeff Lynne except that he's already bottled his own retro magic.
'Bargain Song' employs a shifting bass line and a jazzy Paul Simon vocal and Greg heads for the highway with some cogent rocking on 'All', as each verse adds another musical colour over a relentless tic-toc rhythm. You can almost feel the psychic energy immersing the music with real potency.
Greg Goldman is possibly the first artist I've ever come across who outlines his a-z influences on his web site, though curiously neither Brian Wilson or the Beach Bys feature. But you can feel the musical lineage at play from the little musical motifs and rich sonic elements, to the vocal phrasing and wide ranging musical styles.
'Cathexis' is a refreshingly cool album, even when Greg's adventurous spirit leads him to a proggy effort like 'Validation', which mixes staccato Jethro Tull rhythms with wisps of Genesis' and Phish style harmonies.
And if he evokes Macca again on the closing 'Turn It Home', it's simply because he recognises the need for a gentle acoustic end-piece to a great album that all discerning rock fans should buy.
*****
Review by Pete Feenstra
---
| | |
| --- | --- |
| | Print this page in printer-friendly format |