GLENN HUGHES Live In Wolverhampton earMUSIC (2011)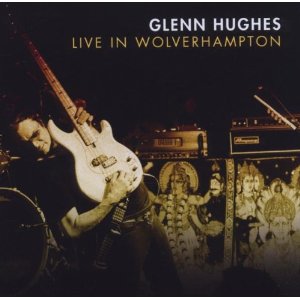 Having made the 200 mile round trip in thick fog to see Glenn Hughes play the Robin 2 a couple of years ago, I was all the more intrigued to see whether what I witnessed translated well to DVD and CD. Drew Thompson, who produced the recording, has a good heritage having also released the rather excellent 'Phoenix Rising' Purple Mark IV chronicle.
You get two CDs and two DVDs which is a generous collection to behold. For the uninitiated, Wolverhampton is the nearest big city to where Glenn Hughes grew up and joined Mel Galley and Dave Holland for the funk rockers, Trapeze. Mel Galley's untimely death prompted this revisiting of mainly Trapeze tracks with the occasional foray into Purple territory with a 20 minute version of 'Mistreated' plus some funky selections from the solo catalogue. But let's concentrate on the Trapeze material.
Most of the tracks have stood the test of time. 'Medusa' was re-recorded for the Black Country Communion album. In a similar vein, 'Jury' contradicts my convenient label of "funk rockers" and reminds us that Trapeze also belted out some pretty decent riffing in the Sabbath tradition. The ballad, 'Coast to Coast' showed the diversity that was offered up prior to Hughes's departure to take up the Purple berth in 1973.
There has little attempt to doctor this performance with synthetics. What you see and hear is what was heard on the two evenings. Occasionally the naivety in the lyrics reflect that this was a band which was developing and not the finished article. And yet this modern treatment breathed new life into songs that had largely gathered dust in vinyl collections from Texas to Timbuctoo.
'Seafull' is a tour de force and my favourite off the album with its tones and moods that allow the band of Steve Stevens, Jeff Kollman and Anders Olinder space to breath each side of the Hughes delivery on bass and vocals.
Keyboard man, Anders Olinder is instrumental in this respect and certainly not a Jon Lord tribute artist. 'Black Cloud' should have been the hit single that might well have changed history - an easy going rocker in the tradition of the Doobies and well melded by this band tonight.
An emotional moment was the introduction of Mel's Gibbo, "Black Beauty," played with aplomb by Glenn Hughes himself.
The DVD also features some interesting extras such as interviews withTrapeze's old manager,Tony Perry and the master raconteur, Glenn himself. I have said it before that Glenn Hughes has a big story to tell mainly because he survived to tell it, through music, video and now of course autobiography. It's been a fascinating life and this live album offers a worthy testament both to Hughes and his former bandmates.
****
Review by Keith Thompson
Keith presents 'Rockwaves' on Get Ready to ROCK! Radio every Sunday at 21:00 GMT
---
| | |
| --- | --- |
| | Print this page in printer-friendly format |
| | |