IAN GILLAN & TONY IOMMI Who Cares earMUSIC (2012)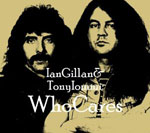 Visits to an earthquake-ravaged Armenia inspired this collection of Ian Gillan and Tony Iommi-related tunes designed to support the building of a music school. There are two 'new' tracks on 'Who Cares' that originally came out in 2011 as a single - 'Out Of My Mind' and 'Holy Water' - but the bulk of this 2-CD set is made up of obscure singles and rarities.
Perhaps unusually for a collection like this, it all hangs together well and there are some genuine obscurities. Gillan-era Black Sabbath represented by 'Zero The Hero' and 'Anno Mundi' from 'Tyr' are among only a handful of previously available tracks on CD but worth having here nevertheless.
There are a couple of Japan-only tracks from the 'Fused' sessions (the classic and perhaps overlooked Glenn Hughes/Iommi collaboration from 2005) whilst Gillan is well represented with several single cuts, the excellent 'Don't Hold Me Back', 'She Thinks It's A Crime' and 'Hole In My Vest'.
Elsewhere, 'Who Cares' is bolstered by an orchestral version of 'Smoke On the Water' with Ronnie James Dio fronting Deep Purple (with Gillan) in 1999 and perhaps the most intriguing inclusion - a Purple studio jam from 1995 entitled 'Dick Pimple' originally released as a fan-convention only single. Together with those recent studio recordings, there is now added poignancy. Jon Lord played on them all.
On balance there is more Gillan than Iommi (including his 1990's band Repo Depo and a reunion with his sixties band The Javelins in 1994), but with excellent liner note annotations and a charitable cause, this is the gift that keeps giving.
****½
Review by David Randall
David presents 'Assume The Position' on Get Ready to ROCK! Radio every Sunday at 22:00 GMT
---
| | |
| --- | --- |
| | Print this page in printer-friendly format |
| | |