GARY MOORE Blues For Jimi Eagle Records EAGCD491/EREDV950 (2012)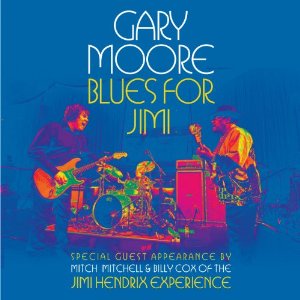 I was at this show and my thoughts then still ring true 5 years on. Gary Moore 'Blues For Jimi' was a strange event. The venue was big disco, and the band played in front of a select audience, compered by Keith Altham adding a semblance of context and continuity to the evening.
The core house band of Gary Moore, Dave Bronze and Darrin Mooney bring raw gut muscularity to a purposeful set, but given the evening was celebration of Hendrix, there's a woeful lack of charisma and presence. Of course Gary does his talking with his guitar, but Hendrix was much more than that, a larger than life enigma and a flamboyant performer with a sense of mystery.
Aside from a belated appearance by Billy Cox and Mitch Mitchell, what is really lacking is a sense of occasion on the 40th anniversary of Hendrix's appearance at the Monterey Pop Festival.
What we get is a typical high-octane performance from Gary who sounds like himself rather than Hendrix. He opens 'Foxy Lady' with some impressive sustain and brings welcome light and shade to 'The Wind Cries Mary', though his vocal lacks the requisite sensuality of Hendrix phrasing.
The gaps between the songs are annoying, as surely someone could have recognised the need for some meaningful links. In fact, Altham later returns to introduce both Mitchell and Cox. But I guess with Gary Moore what you see is what you get, and there's no arguing with the up tempo fretwork on 'Fire' and the glorious OTT finish.
It ultimately falls to the natural vivacity of Mitch Mitchell to seize the moment and Billy even asks for a round of applause for Hendrix. The trio's version of 'Red House' finds the rhythm section manfully try and keep up with Gary's unrelenting fire, and sculptured wah wah notes, as Billy adds some welcome soulful vocals, which he repeats on 'Stone Free'. Gary adds a whammy bar flourish on the outro, before 'Hey Joe' reverts to Gary Moore basically playing as he always does, with Mitch thrashing away belligerently and Billy Cox adding the occasional funky bass note. Mitch finally comes to the front to make a welcome connection with the audience.
The DVD doesn't add much to the CD, save for the fact that it captures one of the last performances by Mitch Mitchell who sadly died just over a year later. But in truth aside from Gary's lightning fast licks there are few moments of unspoken inspiration to dwell on, as the set bulldozers its way to 'Voodoo Child (Slight Return)'.
Hendrix would probably have appreciated Gary's guitar playing, but outside of the under-rehearsed Mitchell and Cox, he would surely have searched for some moments of spontaneity so obviously lacking here.
****
Review by Pete Feenstra
---
| | |
| --- | --- |
| | Print this page in printer-friendly format |