GARY LUCAS & GODS AND MONSTERS The Ordeal Of Civility Knitting Factory Works B004S801WM (2012)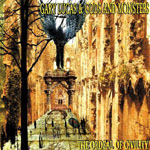 Gary Lucas is a Grammy nominated songwriter and composer whose illustrious career has included playing raucous guitar for the latter-day Beefheart, a fact that is only occasionally apparent on an album full of interesting songs with lyrical twists and instrumental textures. But given that this is an album with weighty intellectual pretensions and it is produced by Jerry Harrison, it glaringly lacks a decent vocalist.
For the most part Gary gets away with things through some imaginative phrasing. 'Depression' for example, evokes the early career Hugh Cornwall /Stranglers vocal style that only a wonderful wailing sax and guitar cacophony can just about disguise.
Described as 'avant- punk architects' hell bent on avoiding 'cultural assimilation and soul-killing aesthetic conformity', this record just about achieves its goal, though ironically enough, it relies on the Bob Dylan school of vocals, incorporating elements of Leonard Cohen on 'Luvz Old Sweet song' and on 'Jedwanne', the dark uncompromising account of Jewish slaughter.
Put simply, Gary is an esteemed wordsmith and an innovative guitarist but a limited singer. It's the difference between a merely interesting album and one that is worthy of its artistic pretensions.
And while there is no getting away from weighty topic of Jedwabne', too much emphasis is loaded on to Gary's role as an independent spirit in a homogenous music business driven by the bottom line After all there has always been room for an intelligent, challenging, creative musical niche that stretches from folk and blues driven protest songs, through the musical excellence of jazz, to the eclecticism of Zappa and beyond.
But 'The Ordeal of Civility' is a well titled piece of work, suggesting a sense of frustration that much of the music brusquely challenges. There's some sparkling guitar work on the folky 'call and response' of 'Chime On' and a smart change of vocal on the New Wave sounding 'Swamp T'ing', full of swaggering horns and squiggly synth. The horns parts are extended on the self empowering feel of 'Climb The Mountain' - though the use of sprechgesang once again disguises the vocal limitations.
Lucas reverts to his Beefheart musical persona on the excellent angular instrumental 'Hot and Cold Everything', which features some great stop-start horn arrangements, meaty solos and what Zappa called 'stunt guitar' on the finale. It's an album highlight, closely followed by the Tull sounding 'Lady of Shalott', which as the liner notes accurately suggests has a mediaeval feel. Once again the vocals are just passable.
For the rest there's the clever word play, lyrical integrity and pumping horns of 'Peep Show Bible';- 'You heard that Jobe had a bad day, well you ain't seen nothing yet, life's just a peepshow bible, ain't no time for regret', and some hard acoustic strumming and deft picking on another instrumental 'Whirlygig', which is partially reprised on 'Lazy Flowers'.
'The Ordeal Of Civility' isn't quite a heavy as the title suggest, but strip away the veneer and you'll find plenty of substance.
****
Review by Pete Feenstra
---