FUZZY DUCK Fuzzy Duck Esoteric (2012)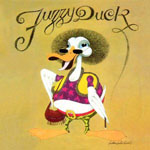 Just when you thought they'd all been caught and cooked, along comes this super-dude to reassure us there's still gold in the hills of heritage rock. Culled from almost absurdly diverse career corners ranging from Rolf Harris to John du Cann's Andromeda via pre-Uriah Heep rockers Spice, Fuzzy Duck's line-up provided support to popster Gilbert O'Sullivan before nailing this life-affirmingly upbeat hybrid of hard pop/rock with prog/psych tendencies in 1971 London.
With its churning Hammond organ, whiny guitar and busy drums, it's 'of its time' - but what a time. Early blooming Deep Purple and Heep infuse assuredly inventive, catchy compositions played with a good-humoured panache: listen harder and spot elements of a particularly English vocal styling akin to those of period acts T2 and Caravan.
There is not a duff track on the set, which comes in this polished package (droll notes from Marco Rossi) with equally stoking non-album single As and Bs.
Yet, bafflingly the Duck failed to connect acclaim with sales. Titanically, its albums and 45s sank on their maiden voyages and everything went to feathers, members scattered to more lucrative work with artists again as diverse as Ten Years After and Bonnie Tyler.
An original copy of this is going to be worth around £400 but you'll be hard to pushed to find one: they will be worn out with plays. A delight.
****
Review by Peter Muir
Peter presents 'Progressive Fusion' on Get Ready to ROCK! Radio every Sunday at 19:00 GMT
---
| | |
| --- | --- |
| | Print this page in printer-friendly format |
| | |