FOREIGNER Alive And Rockin' Eagle EAGCD478 (2012)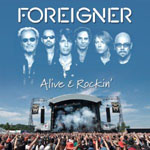 This live CD was recorded at Germany's Bang Your Head festival back in June 2006. The line-up back then would have included not only Mick Jones and vocalist Kelly Hansen but Jason Bonham on drums and long standing member Jeff Jacobs (keyboards), both who have since left the band.
It is a hit heavy set with only 'Starrider' not a it single for the band although it does show the band's earlier sound when they had a touch of Roxy Music and even a little prog in their sound.
Vocalist Kelly Hansen has been a real boost to the band, not only as a larger than life frontman but mainly for his vocals, which suit the band down to a tee.
Hard to pick highlights in such a strong setlist but 'Urgent' with its soaring sax solo and 'Jukebox Hero' (with a little of Led Zep's 'Whole Lotta Love' thrown in for good measure) are personal highlights.
There are plenty of Foreigner live albums out there but for a live hit packed set you won't get much better than this one.
****½
Review by Jason Ritchie
---
***** Out of this world | **** Pretty damn fine |
*** OK, approach with caution unless you are a fan |
** Instant bargain bin fodder | * Ugly. Just ugly
get ready to rock is a division of hotdigitsnewmedia group