FOGHAT Reissues Edsel (2012)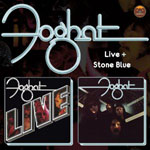 Edsel continue with their Foghat reissue campaign, and more 2-on-1 releases.
Here we start with 1977's classic Live, probably the best single disc Live albums you'll ever here. When Kerrang! said it was kept to one disc to keep fans coming back for more - they weren't wrong. The band are on fire, their mix of blues and hard rock perfect the mid 70s stadium crowd. The set opens with the classic 'Fool For The City', and continues with the bright 'Home In My Hand'. Peverett's vocals and guitar really rock, and Rod Price's lead and slide are quite electric. 'I Just Want To Make Love To You' is extended to over 8 minutes. A edited version was released as a single and became a radio hit. Side 2 has the solid 'Road Fever', 'Honey Hush' and the classic staple 'Slow Ride', the latter again running to over 8 minutes and you can feel the crowd's enjoyment.
It's well mixed, the band on form, this is how good live albums should sound and I can't wait for more period material to surface. *****
1978's Stone Blue saw the introduction of producer Eddie Kramer (Hendrix et al), who the band didn't really get on with. But this tension really got the best out the band. The sound moved away from the stadium hard rock and onwards back to the blues, and also saw guitarists Price and Peverett at their duelling best.
The opening two track will also see the most stunning and blistering rock slide guitar you will hear. Ever. The opening title track is a real boogie number, a nod to Quo, but finishes with an extensive and mind blowing guitar solo. Then there's Robert Johnson's 'Sweet Home Chicago', it's heavy and so full of blues'n'slide it's sheer magic. 'Midnight Madness' and 'Easy Money' keep up the heavy blues but also a return to the R'n'B (that's proper earthy rhythm'n'blues) roots - just listen to Craig MacGregor's bass lines - fantastic.
There's some Bo Diddley and Elmore James too on the album, this is what the band were doing 10 years previously but with development in power and rock. It's undeniable that this remains one of my favourite albums. Ever. *****
Boogie Motel saw a lighter approach, the song writing changing direction, and touring and alcohol taking toll on Rod Price, who was largely absent. To compensate, Peverett played more of the guitar parts and there's a guest or two on the album too. That said, there's still an R'n'B feel, as heard on Somebody's Been Sleeping In My Bed, and the title track is really outstanding - a lighter boogie with some brass moments that give a Blues Brothers feel and some outstanding guitar to boot.
'Coming Down With Love' is rocky and catchy. The two tracks to repeat over are the excellent title track and the blistering 'Nervous Release', which really will grab you. ****
1980's Tight Shoes saw an inadvertent move in the new wave direction, more like the music that was designed to replace Foghat's old styles. The song writing is a new wave pop/rock take on the old r'n'b, the boogie almost completely gone. And nearly was Rod Price too, who only contributed a few parts. 'Stranger In My Home Town' and 'Loose Ends' are definitely quite catchy though, the latter a real rocker. Another stand out is 'Too Late The Hero', a track I have always loved, but overall the album lacks identity. ****
Girls To Chat And Boys To Bounce saw new guitarist Erik Cartwright enter the frame, less bluesy and more flash, but it suited the era, and Nick Jameson was back on production and keyboards. This is classic early 80s new wave rock with some very good songs (check out Live Now Pay Later and Wide Boy), but far from the classic Foghat we all know and love. ***½
In The Mood For Something Rude saw Jameson back on bass duties, and the band decided to cover tracks from Peverett's record collection, from blues, jazz, gospel and r'n'b, and all given that 80s Foghat feel. Slipped Tripped Fell In Love is a strong number, it's a fun record, but not one I go back to very often. ***½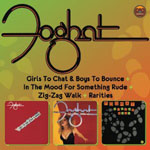 Foghat's final album, before the split - Zig_Zag Walk is a real mix of styles but a lot of fun too. That's What Love Can Do opens with a strong rhythm, and Choo Choo Ch'Boogie a real old rocker. From blues and boogie and rock'n'roll up to modern rock/pop, it's very enjoyable, and many may recognise Three Wheeled Cadilac. ***½
The final disc is just amazing, and of most interest to collectors, being full of rarities. Aside a few single edits, there is 'Run Run Rudolph' and 'All I Want For Christmas Is You' (both only released on promotional only singles) and some demo / original mixes. Top Stuff. ***½
All the CDs come well packaged, with interviews in the sleevenotes, and full lyrics. Great stuff.
Review by Joe Geesin
Reissues
---
| | |
| --- | --- |
| | Print this page in printer-friendly format |
| | |