FOCUS X Eastworld Recordings (2012)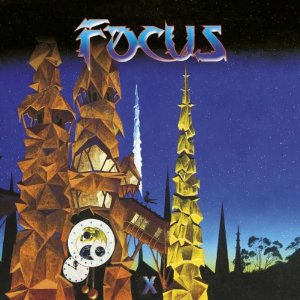 One of the great rejuvenations of recent years has been the Thijs van Leer version of Focus, things seemed to click with the arrival - in 2006 - of original drummer Pierre van der Linden and they've toured regularly ever since. Unfortunately, the band lost their guitarist Jan Dumee but now with Menno Gootjes they release the somewhat predictably entitled 'Focus X'.
Recent Focus albums have never been earth-shattering and 'X' is no exception. It starts with the 'Hocus Pocus'-lite 'Father Bacchus' which sounds more like a loose warm-up jam than a fully structured song. It doesn't really add anything to the Focus oeuvre.
Although this album is being billed as having "strength and depth" to be quite frank the modern Focus never seems to be able to shake off its pre-history and rather than attempting something quite dramatic and truly progressive, we really get the largely predictable updates of former material. Focus I, originally on the 1970 debut is now called, yes, Focus X whilst the following piece 'Victoria' continues in similar vein only relieved by a slightly funky twist.
'Amok In Kindergarten' is seriously jazzy and overall the album probably connects more with the band's original swansong 'Focus con Proby' when they had the jazzy Philip Catherine sharing guitar duties.
It is not worth rehearsing the guitarist arguments here, we've probably moved on a bit since 1976. But any guitarist has to capture the audience's imagination and be able to emulate Jan Akkerman's presence and dexterity as he was such an important part of the original band's sound.
Menno Gootjes copes well, although I've yet to see him play live so I can't say whether or not he has that extra, slightly intangible, ingredient of charisma and a slight danger evident in all Akkerman's work.
The great musicality of Van Leer (and indeed the rest of the band) is never in doubt. At the most this album merely serves as a selection of 'new' deferential songs to at least mix with the classics from old in their stage set, a gentle refresh of Focus - 2.012 as it were.
At worst, the album is lazy. They've even included a re-working of 'Le Tango' that appeared on the Akkerman/Van Leer collaboration in 1985 and also subsequently on Van Leer's solo albums. To these ears there just isn't enough rock in the mix and Van Leer's glorious Hammond appears sadly under-utilised.
'All Hens On Deck' is yet another 'Harem Scarem' or 'Neurotika', but 'Hoeratio' is a bit too quirky with Van Leer's Dutch-language monologue. The closing X Roads is attractive but to be honest it's slightly ruined by the Van Leer monologue. And there's a sense that Gootjes needs to loosen up a bit more.
Overall, 'Focus X' is authentic and will surely satiate the faithful who, like the band, appear to be frozen somewhere in the late-seventies. As a fresh statement of Focus in 2012, it's a bit disappointing.
***½
Review by David Randall
David Randall presents 'Assume The Position' on Get Ready to ROCK! Radio every Sunday at 22:00 GMT. He wrote 'In And Out Of Focus: The Music Of Jan Akkerman & Focus' (2003)
Focus are on tour in the UK in November 2012
Nov 08 Buxton Opera House
Nov 09 Hessle Town Hall
Nov 10 Glasgow The Ferry
Nov 11 Hebden Bridge Trades Club
Nov 13 Wolverhampton Robin 2
Nov 14 Runcorn The Brindley
Nov 15 Barnsley Birdwell
Nov 16 Fletching Trading Boundaries
Nov 17 Tavistock The Wharf
Nov 18 Sutton Boom Boom Club
Nov 19 Milton Keynes The Stables
Nov 20 Chislehurst Beaverwood Club
---