ED VALLANCE Volcano Proof Records (2012)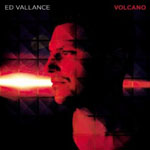 Ed Vallance is an Englishmen in New York. But any parallels with Sting are solely titular, as his musical niche is wrapped up with searing ethereal melodies. It's a wide screen, big vista sound with a very 80's feel that he subtly manages to update through the strengths of his songs.
Ed Vallance is an artful song writer who has an eye for a great melody and a neat turn of phrase. Above all his music suggests a child of the 80's and a musical magpie who picks out some choice influences and moulds them into his own ends. Together with the gentle guiding hand of producer Mark Ephraim he manages to leave his imprint on an album that gently washes over you and leaves a residue of catchy hooks and drifting melodies as it flows from beginning to end.
Each stylistic influence is subsumed under the melodic flow that gives 'Volcano' its essential sound. So while the dreamy 'Seabird' owes much to the emotive phrasing of Chris Martin from Coldplay and 'Black & White Light' dives straight into the 80's keyboard led sound of Missing Persons, it's Ed's whispered breathy phrasing that draws the listener in, almost in spite of the overbearing keyboard solo.
On the glossy production number 'Cowboys & Indians we are into Radiohead territory, while the title track makes potent use of a borrowed riff from The Edge, as Ed's vocal is given more prominence in another atmospheric piece full of lushly layered sounds.
The following 'South Circular' is arguable even better, with another angst ridden vocal, an infectious melody and a great uplifting chorus on another song that makes the best possible use of the big production wall of sound.
'Volcano' is an album that is the sum of its parts, and much like The Blue Nile all those years ago, the atmospheric instrumentation, electronic noodles and processed voices are intertwined but with the same consistent goal of delivering a hook.
'Into The 'Forest Fire' is a prime example of this, being a smouldering track with intermeshing sounds, subtle pulls and pushes of rhythm and a distant guitar figure as Ed reaches for his falsetto range to deliver the hook.
And just when you think he's exhausted the full range of influences up pops a George Harrison slide intro on 'Bookish', a song that doesn't quite have the immediacy of some of the earlier tracks and relies on a 'doodooodoo' sing-along line, extravagant cymbal splashes and a keyboard riff to carry it forward.
But as with the album as a whole it's best understood as part of some thoughtful sequencing, acting as a conduit between a slowly evolving track, and an emotive balledic finish that revisits the delicate beauty and commercial potential of the earlier 'Seabird'.
Aside from the slightly puzzling title of the album, 'Volcano' is a work of some depth and beauty and is a production delight. And as Ed's voice drifts into the night on the closing lines of the more aptly titled 'Famous Last Words, you just know this will certainly not be the last we hear from this talented wordsmith.
****
Review by Pete Feenstra
---
| | |
| --- | --- |
| | Print this page in printer-friendly format |
| | |