DRUCKFARBEN Druckfarben (2012)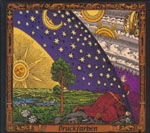 Whenever I see the golfer Ian Poulter I always think to myself 'you best be able to play golf dressed like that', and thus it is with Druckfarben - if you're going to call your band 'printing ink' (the English translation of druckfarben) then you'd better be pretty good at what you do. Fortunately the answer in both cases is yes - they are both very good at what they do.
Druckfarben is a five piece retro seventies progressive rock band from Toronto and this is their debut album. They have obviously drunk long and hard from the well of Yes, Emerson Lake & Palmer and, to a lesser extent, Genesis and Gentle Giant but you would be completely wrong to dismiss this rather fine work as merely pastiche.
Things get underway with 'ELPO' an instrumental scene-setter and the clue's in the name - an Emersonesque keyboard riff leaps out of the speakers and you think 'Tarkus', here we go. But then a little jazz appears, then some great guitar riffage and you start to think - no, this is better than ELP (not difficult mind you, I was never a great fan of said supergroup).
Things take a distinctly Yes turn on 'Influenza' (infected by the influence of Yes maybe?) the Steve Howe guitar, the Wakeman keyboards but most of all the Jon Anderson soundalike vocals of Phil Naro - an aspect of Druckfarben's sound that more than anything places them in the Yes camp.
The jazz influence appears again on 'Smaller Wooden Frog' (yep, Smaller Wooden Frog) before the Yes groove is restored on one of the best tracks here 'Dead Play Awake' complete with some fiery shred guitar and nice keyboard/vocal interplay.
The best is saved for last though. 'Nonchalant' has a wonderful, dreamy start which flows into the body of the song with its acoustic guitar and violin mash-up followed by some soothing piano to finish - what more do you need?
All this talk of Yes might lead you to think Druckfarben are just some sort of tribute band earning their living on the coat tails of 'Close To The Edge', 'Fragile' and 'The Yes Album', but nothing could be further from the truth. This is contemporary, modern progressive rock music with its own personality, not afraid to look back to prog's roots but distinct enough to carry the flag forward - and it will be interesting to see where they plant that flag next.
I still think 'Printing Ink' is a shit name for a band though!
****
Review by Alan Jones
Alan sequences "The Eclectic Mix" on the third Sunday of every month on Get Ready to ROCK! Radio, and usually manages to include some prog.
---
| | |
| --- | --- |
| | Print this page in printer-friendly format |
| | |