DOUG VARTY BAND Feel Free (2012)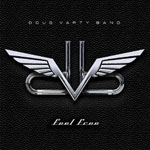 Ontario's Doug Varty band occupy that classic rock meets rock-blues niche that has served so many bands well from Bad Company to AC/DC. Predictably perhaps, both those band are significant influences on this enjoyable retread of familiar themes, power chords and fiery rocking.
There's only so much you can do with classic rock format and then it's down to the performer to stamp their own imprint on the music and that's just what guitarist/vocalist Doug does with some throaty vocals and sinuous playing, though you could be forgiven for wondering why he doesn't solo more. And if he doesn't quite have the songs that make Bob Seger top dollar or the powerful range of say Chicken Foot's Sammy Hagar, he comes close enough to the classic rock source with an accessible album full of good singing, good playing and rock solid songs.
I'm surely not the first scribe to note that the opening track 'Kick Ass' does exactly what the title suggests, with a Hagar style vocal and power chords, while 'The Itch' mines some AC/DC influences and 'Upsetter' takes in some up tempo r&b. Doug rounds off his major influences by adding the derivative languid blues of the title track before heading back to his classic rock core with the Paul Rogers influenced 'Paid', on one of his very best vocals on the album.
From then on, Doug hits a rich hard rock seam with the vocoder led 'Now Your Talking' impressing with its good time narrative that fits a rock solid groove perfectly and leads to a catchy hook. He adds some staccato guitar on the up tempo 'Misfit' complete with growled vocals and more power chords, while the popping beer bottle tops and tongue in cheek humour of 'Intoxicated - 'only three of them and a whole lot of me, seems like the odds were on my side' - is curiously at odds with a practicing yoga fan.
But hey, rock & roll is all about suspending your disbelief and enjoying the moment. And that's just what Doug does throughout an enjoyable album with some bad ass rocking and rasping vocals. He saves his best for last, slipping into lovely percussive groove with a repeated guitar motif and subtle synth squalls on 'Make My Day'. All that is missing is a defining guitar solo, but perhaps after 10 big hitters he's all rocked out.
****
Review by Pete Feenstra
---
| | |
| --- | --- |
| | Print this page in printer-friendly format |