DO MISS AMERICA Songs From Desire Avenue DMA Records DMA001 (2012)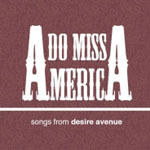 'Songs From Desire Avenue' by Do Miss America (is the latest in a significant number of Brit bands who offer an impressive harmony led take on Americana music. Here is a band whose best songs, pristine harmonies, catchy melodies and lyrics of sublimated love, lust and desire puts them miles ahead of their contemporaries - either side of the Atlantic - though their preoccupation with MOR country holds them back.
They open with their very best effort the magnificent 'Queen of California', which apart from stealing a melody line from Orange Juice is so good it's hard to believe they are Brits. The integral repeated keyboard riff and the sumptuous refrain, 'My baby's the queen of California, but I'm in love with the angel of New Orleans, My baby's the queen of California, but it's still you I see in my dreams', is simply irresistible
There's rare attention to detail, stretching from the loosely conceptualised lyrics to the sweeping melodies, delicate instrumental work and perfectly phrased rhyming couplets with harmony vocals that all contribute to a seamless flow.
And having set out their stall with the poised 'Queen of California', they broaden their horizons on 'Gasoline 'full of unlikely blues harp and horn riffs, noir lyrics and a wholesome production that places great emphasis on sonic quality and backing vocals.
It comes as something of a disappointment then, when they abandon their bristling opening with a step towards MOR country rock on a sub Eagles effort 'Falling All The Way' and a handful of inoffensive country rock outings. It's a shame because this is a band that obviously has so much more to give than the Everly Brothers pastiche of the banjo led 'Half Way Down The Line'.
The overall balance of the album suggests a push and pull in different directions with the impetus veering towards playing safe. Whatever the reason, this is a band that never strays too far from sparkling harmony vocals as evidenced by the beautifully crafted ballad 'Just Like Rome'. It's also a song full of angst and a chiming pedal steel that surely offers them radio potential. On 'Georgia' they add some stylised lyrics to match their musical strength; 'I'm somewhere between heaven & heartbreak again, somewhere inside I can feel my life caving in'.
This perfect meeting of lyrical acumen and a sharply arranged material is the kind of approach that has projected bands like Rascall Flatts to national attention in the States, and Do Miss America have the necessary style and class to pull it off.
They nuance Dylan's 'Desire' period on 'Bad Poetry', tip their hat to REM on the love song 'Falter' and slip into a country duet on 'Call Off The Wedding'. And overlooking a lamentable slice of country twang on 'Don't Get Mad (Get Awesome)' they finish on a heavy duty smouldering ballad.
'So Far Gone', includes more dichotomous lyrics such as; 'if enemy is hatred, I guess I can go for bitter friends'. The lyrical duality extends right to the end on the smouldering ballad; 'maybe we should work it out some, but now we're so far gone, we're so far gone, another thing to live and learn from, another chance to crash and burn'. And despite apparently having finished with their last will and testament, there's a very belated down-home crackly coda with a sting in the tail 'Well I've tried and tried and tried and still I find, it's always you that's on my mind, especially when she's lying next to me', suggesting
Do Miss America would be better served by focussing more squarely on their left field leanings and quietly forgetting MOR Nashville.
***
Review by Pete Feenstra
---
| | |
| --- | --- |
| | Print this page in printer-friendly format |
| | |