DEEP PURPLE Total Abandon Eagle (2012)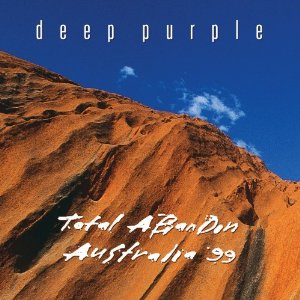 Just what the world needs another live Deep Purple album I hear some cry! But wait, this one was recorded back in 1999 in Australia and was previously only available in that country or in the 'Around The World' DVD box set until this release on Eagle Records
The setlist mixes the Deep Purple staples like 'Strange Kind Of Woman' and the extending jamming on 'Pictures Of Home', along with newer songs back then like 'Ted The Mechanic'.
There is also a wonderful version of 'Sometimes I Feel Like Screaming', where Ian Gillan is on good vocal form. And a few songs on the setlist that are rarely played live in the shape of 'Bloodsucker' and 'Watching The Sky'.
Steve Morse had melded into the band well by this tour and this album shows what a fine guitarist he is plus how he has given the band a new lease of life.
For the Deep Purple fan for sure but a decent enough live set for the casual fan to have in their collection alongside the classic 70's live albums.
****
Review by Jason Ritchie
---
***** Out of this world | **** Pretty damn fine |
*** OK, approach with caution unless you are a fan |
** Instant bargain bin fodder | * Ugly. Just ugly
get ready to rock is a division of hotdigitsnewmedia group