DAYLIGHT ROBBERY Cross Your Heart...And Hope To Die Solar Flare (2011)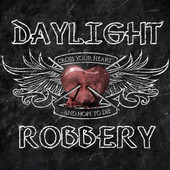 In truth if you shelled out full whack for this album you would probably be thinking 'Daylight Robbery'.
As soon as this debut offering fires off, you are immediately aware of its sonic limitations. The drums have a nasty sibilance throughout. You could be forgiven for thinking that some third-generation late-eighties master tape has been resurrected, but no.
This is a great shame because behind the lack of sonic sheen there is a promising melodic hard rock band belting to get out. Yes it is clichéd but it is played with some passion.
Opener 'Cross Your Heart' sets the pace, it could be a prime-time Tyketto outtake but without the million dollar knob-twiddling. In places, there's a definite Journey vibe. As far as their UK contemporaries go, Midlands-based Daylight Robbery sound in places like a harder version of Serpentine.
Vocalist and lyricist Tony Nicholl has a fine set of pipes, but struggles against the sonic sludge, with Duncan Cook's keyboards well and truly buried for the most part.
Overall there is a lack of wow factor in the songwriting or the playing but it would certainly be lifted by a better production job.
But, really, I cannot understand why any band would be happy releasing this in its present form. I can't understand, too, why the reviews I've seen of this album fail to comment on the production quality with the exception of one. It almost had me arranging an early new year ear syringe. Discerning listeners beware.
**½
Review by David Randall
David presents 'Assume The Position' on Get Ready to ROCK! Radio every Sunday at 22:00 GMT
---
| | |
| --- | --- |
| | Print this page in printer-friendly format |
| | |