DANNY BRYANT'S REDEYEBAND Nightlife Live In Holland Jazzhaus (2012)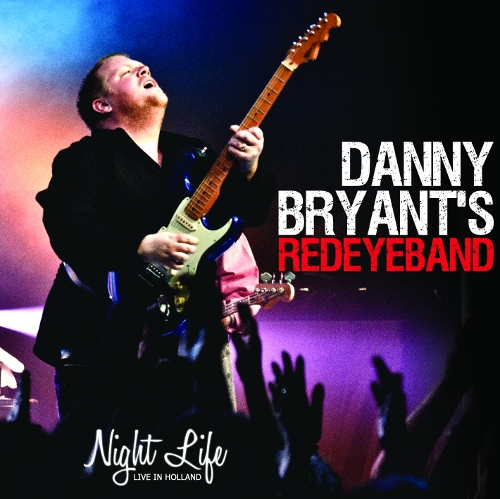 'Night Life' is his Rock blues guitarist Danny Bryant's seventh album and his debut for Jazzhaus records. And just like the man himself, it's a hard rocking affair with no frills but played with plenty of energy, commitment and bags of talent. Recorded in front of a capacity crowd in Holland, the album is in many ways the result of a decade spent racking up the miles across the continent. The end result is the most definite live RedEyeBand outing so far.
And in an age where everything is either doctored or wrung through a 'spin' drier, this is a breath of fresh air. Quite simply what you hear is what you get from the young tone master who leads his road tested power trio through a set of passionately played rock blues.
Danny set himself new standards with his last and best studio album 'Just As I Am' and 'Night Life' shows the band can deliver just as impressively in a natural live gig habitat.
The album opens with an avalanche of notes on 'Tell Me' - culled from Danny's 'Black & White' album - before slipping into a thunderous groove with a neatly distorted tone as he burns with real intensity. He barely has to ask the crowd 'is everyone there', as they send out a raucous confirmation.
And after the blunderbuss opening, Danny slips into a Neil Young style distorted tone intro with quavering notes to match his impassioned vocal performance on a slow burning blues that clearly states his message 'I fall like any other man, 'cos It is what it is and I am what I Am'. Danny adds some cutting edge repeated notes as he racks up the tension and resolves the piece with a fiery solo of burning intensity, worthy of the songs title. The crowd respond in kind, showing the essential connection Danny's playing establishes with his fans.
There's a sharp contrast of chimed notes and their growling opposite on the pile- driving intro of 'Heartbreaker', a long term live favourite and a song he cut on his debut 'Watching You' album a decade a go. It also the song that marks drummer Trevor Barr's best performance so far, with some extravagant cymbal splashes to match a rock solid beat, as Danny slips into some wah wah inflected notes to finishes with a flourish.
The band brings things down on the cool dynamics of the ballad 'Love of Angels' and switches to acoustic for a sing-along on the love song 'One Look'. And sandwiched in between the two, is 'Master of Disaster', one of the highlights of the set, as Danny makes use of some clever word plays and an unexpected but very effective melodic coda. In a rare combination of intense rocking with a great chorus, the song includes the line; 'In a Master of Disaster, he's getting tangled in his telecaster, he can't play it any faster, when he pays the blues' and concludes with 'with every note he shook the plaster, he's a mean old master when he plays the blues'.
And having achieved the perfect balance so far, Danny slips into 'My Baby's A Superstar', a heavy duty shuffle full of resonating notes, some nifty wah wah and a great lyric about 'making love with a superstar' but it's slightly ponderous as the rhythm section is far too laid back. But no matter, as equilibrium is quickly restored on a sing-along version of Dylan's 'Knocking On Heaven's Door'.
The best thing about 'Nightlife' is that set builds up coherently, giving you the feeling that you are actually at the show. And in that respect the closing rock ballad 'Always With Me' is the natural finish. There's an opening sustained note, angst ridden vocals, some Walter Trout style volume swells and a moment when Danny brings everything down to a whisper before the inevitable tension releasing solo.
The crowd gives the band the kind of reception their performance deserves on an album that is by no means perfect but deserves its high rating for being the real deal.
****½
Review by Pete Feenstra
---
| | |
| --- | --- |
| | Print this page in printer-friendly format |
| | |