DANI WILDE Juice Me Up RUF 1176 (2012)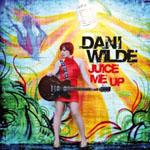 Any Dani Wilde record is all about her vocal phrasing and her rare ability to transform mundane lyrics into something special by elucidating meaning, emotions and at times a sensual mood via her upper register flutter. And 'Juice Me Up' is no exception though the album has a whole marks a departure being essentially a soul album
With a new image and a new musical direction Dani is breaking new ground, albeit in a retro way. And while 'Juice Me Up' does undoubtedly have its moments when the band cooks and her vocals soar, it all sounds just a little too contrived. In some ways 'Juice Me Up' is a curio for an artist who has worked harder than most in touring both continental Europe and North America.
Given the years of road work you would expect a well drilled tour band and ideas, songs and their resulting grooves, but this album sounds more like stilted exercise in finding the right context for her voice. And in choosing soul the project is only partially successful.
Drummer and producer Jamie Little battles hard to get the best possible performance from a fine line-up that includes the celebrated bass player Roger Inniss, guitarist Stuart Dixon, the legendary keyboard player Pete '18 With A Bullet' Wingfield and the well drilled horns of Sid Gauld and Ron Hughes. There's also some deftly arranged bv's and one solitary appearance from Danni's harp playing brother Will who blows assertively on the shuffle 'Mississippi Kisses'.
The emphasis throughout is wholly on Dani's vocal performance and the result is some workaday grooves that smoulder but never ignite like a southern groove should.
Part of the problem is evident on the funky opening horn inflected 'Don't Go Making Me Cry' where Dani's shrill range doesn't have the variety to colour a routine soul outing. The contrast between the funky arrangement and her guttural high register vibrato is not enough to carry a pedestrian track. Ditto the cover of the plodding soul ballad 'Walk Out The Front Door' which drags on in spite of some soaring bv's and punchy horns.
In fact the two and half minute rocker 'Let Me Show You' comes as light relief, and you can imagine this going down well live. The lyrics though often come with a sense of fun; 'Baby looks like James Dean, smells like Brill cream, The way you bite your lip, its gonna be the end of me babe'.
The political commentary of 'Crazy World' is much better and is arguable the most satisfying meeting of voice and lyrics in a soulful context. The funky wah wah rhythm guitar, muted horn and rhythmic handclaps offset the vocals superbly on a smoking track that fulfils its soulful intention. There are more poignant lyrics on 'The Burning Truth', which also injects the album with a much needed tougher workout, though I'm not sure about the accented vocals that deliver an ironic twist; 'London's burning just like Marx said it would, Proletarian revolution? Or just some kids who could?'
Those two tracks aside, most of the material comprises light weight boy/girl songs, albeit with a wry sense of humour never too far away. There's a languid feel to the cover of Smoky Robinson's 'Who's Loving You', which though well suited to her high vocal range offers very little that is new and is only saved by some uplifting sequencing on the harp/guitar ked shuffle of 'Mississippi Kisses'. The title track a lascivious mid-tempo rocker that gives the set much needed balance but as with a handful of cuts on the album Dani's voice is too far back in the mix. 'Sweet Inspiration' in sharp contrast is all about her extravagant up front phrasing on a number with a chorus not too far from removed from Todd Rundgren 70's soul dabbles.
In sum, 'Juice Me Up' is a fair attempt at widening Danni's stylistic horizons but it's a stop-start affair that given some radio play may just break her a new audience, but more than likely it will be regarded as an interesting diversion from her blues core.
****
Review by Pete Feenstra
---
| | |
| --- | --- |
| | Print this page in printer-friendly format |
| | |