CRYPTIC VISION Of Infinite Possibilties (2012)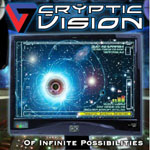 Cryptic Vision hail from Florida and have been on the periphery of the progressive rock scene since their formation in 2003.
'Of Infinite Possibilities' is the band's third release in a triptych of albums ostentatiously called 'Moments Of Clarity In A World Of Infinite Possibilities' and yes, you guessed it, the previous two albums were called 'Moments Of Clarity' and 'In A World'ůsee what they did there?
I have long thought that American bands don't really 'get it' when it comes to the finer details of progressive rock which is why the best they have thrown up over the years, the likes of Dream Theater, Kansas, Spock's Beard and their ilk, have never quite measured up to the prog heavyweights on this side of the Atlantic.
So, having said all that, I now have to declare that America might well have found a flag-bearer for the genre in Cryptic Vision.
'Of Infinite Possibilities', though intensely derivative at times (Yes, Genesis, King Crimson and Marillion are all touchstones) has enough originality about it and enough fine musicianship to make a very fine album.
Eleven tracks make up the album which is described as 'a progressive journey of the world we live in'...no, stay there, it's OK, stop running away!
Yes, eleven tracks, and to be honest there's not really a duffer here. Things do get a bit lightweight occasionally, almost venturing into the Great Grimpen Mire of pop music at times, but are pulled back from the brink with a crashing chord here, a surge of keyboards there and searing guitar-shred solos all over the place.
Stir into the mix generally thoughtful lyrics and some unexpected time signature changes, especially on 'Flash Of Life', one of the album's highlights, and you have the makings of something rather special.
Things come to a mighty conclusion with the signature track on the album, the five part 'Infinite Possibilities' clocking in at a bladder-bursting 21 minutes and ticking every progressive rock box you could wish for - rich chord progressions, powerful vocals, swirling keyboards, occasionally quite stunning guitar and, just to spice things up a little more, some nice passages of violin and Clare Torry-esque vocals weave their way in and out to ice the cake.
Given my introduction, one might have expected the worst that American prog rock could throw at you, but Cryptic Vision have come up with a piece of work here that not only withstands repeated scrutiny, but also challenges pre-conceived opinions about the genre in the States.
Put simply, this is as excellent as it was unexpected.
****
Review by Alan Jones
Alan sequences "The Eclectic Mix" on the third Sunday of every month on Get Ready to ROCK! Radio, and usually manages to include some prog.
---
| | |
| --- | --- |
| | Print this page in printer-friendly format |
| | |