CRIPPLED BLACK PHOENIX (Mankind) Is The Crafty Ape Cool Green Recordings (2012)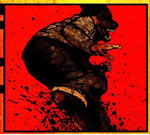 '(Mankind) the Crafty Ape' is the British 'post rock' supergroup Crippled Black Phoenix's fifth album and almost certainly their best.
Whereas the previous 'I Vigilante' was by the band's own admission 'done in a rush' and 'maybe not properly developed' this album appears to be the exact opposite. There's a real organic feel with plenty of intricately crafted moments, while the band appear to have employed every sonic nuance that the renowned Chapel studio has offered them. And aside from an annoying tendency to subtitle songs and couch them in brackets ('Mankind) The Crafty Ape' is their most definitive album so far.
Best known for their use of contrasting moods and themes, ranging from despair and pessimism to the opposite optimistic possibilities offered to them by their own musical adventurous spirit, CBP further explore mankind's dichotomy, although it is sometimes hard to follow meaning without a lyric sheet. Luckily the band let their adventurous prog rock and impressive melodic sweeps speak for themselves. Indeed this double album works so well simply because of its coherent structure and an inherent flow that guides the listener through the more eclectic moments and leads us along a linear path.
In doing so the band explores bombastic prog rock, doom metal, crunching chords, moments of intricate electronic experimentation and of course hard rock, in a three act concept album that finishes on the splendidly titled 'Faced With Complete Failure, Utter Defiance Is the Only Response'. The last track could almost have been the title of the album itself, were it not for the fact the central theme appears to be specifically about mankind itself.
And despite the corruption, doom and gloom of the subject matter CBP's occasional symphonic rock template leads them towards a bombastic, optimistic finish, though you do wonder about the explosive sound effects at the end.
Divided into three chapters and spread overt two cd's '(Mankind) The Crafty Ape' is an album for a new generation of prog rockers with real appeal for stoner rock and metal fans alike. I can't help but offer a wry smile at the title though, if only because in calling us all a 'Crafty Ape' the band surely can't overlook the irony that significant chunks of their excellent music has been craftily lifted from the likes of early Pink Floyd.
Look no further than the opening Gilmour style guitar figure on 'Nothing (We Are...)', or indeed the choogling guitar and rumbling bass intro of 'The Heart of Every Country' and the languid Floydian bluesy feel of 'The Brain'. Then there's also some Eno meets Can and Amon Duul II on the electronics of 'A Letter Concerning Dogsheads'. But obvious influences aside, this is a band with a strong conceptual grasp and an on going thematic thread to stamp the album with its own unique qualities.
'The Crafty Ape' opens with a portentous processed voice and a message that we should use anger to overcome our oppressors. Doomy crashing chords and distant bells feature in a significant 'loud to quiet' dynamic, topped and tailored by brace of dreamy vocal links. It all makes for some sweet flowing and at times ethereal prog rock, as CBP complete chapter one with a chanted mantra and make the most of the studio environment with a big sonic flourish.
There's a familiar Hawkwind computerised intro to 'Laying Traps' on another proggy piece with a Radiohead style whispered vocal line and a symphonic rock finish. The hurried but intense rhythm guitar feel of 'Born In A Hurricane' comes with crashing chords, dark repeated vocal lines and a mighty percussive break.
At this point the band appears to be revelling in sonic delight, oblivious to all external impediments. They even momentarily embrace a Shadows signature guitar line, before returning to the thematic balance of the piece with an unexpected and optimistically humorous rap at the end of the song; 'I intend to make the commune an environment where romance can blossom, where children can play in the streets with their hoops tops and jacks in the boxes'
And there's no let up as CBP segue into 'Release The Clowns' via a Yes style ascending tempo break and a pulsating rhythm track with a punched out horn arrangement.
Chapter II finishes on the lumbering '(What?)', which features a contrasting alternated male/female duet and Chapter III opens with a return to the thematic core on the heavy blues swagger of 'A Suggestion (Not A Very Nice One)'. It's a nicely balanced blend of cool vibes and great wah wah guitar break that makes the most of subtle dynamics and leads into a dobro bathed reverb link piece '(Dig, Bury, Deny)'.
The flow of the album is emphasised by the album highlight 'Operation Mincemeat', which despite its doomy feel hits some delightful sonic highs with a subtle layered sound, soaring vocals, an emphatic piano line and an oboe sound (possible a keyboard). The delicate balance between pathos and grandeur perfectly summarises the sonic splendour of an adventurous outfit.
The ethereal and poignant 'We'll Never Get Out of This World Alive' is a piano piece that evokes an oppressive mood, but happily there's some light relief with the bombastic big rock finish in keeping with the theme of 'defiance'
'(Mankind) The Crafty Ape' might not have the thematic rigour to match some of rock's biggest concept albums, but musically this is an adventurous and stunningly executed work, worthy of purchase by all self respecting rock fans.
*****
Review by Pete Feenstra
---
| | |
| --- | --- |
| | Print this page in printer-friendly format |
| | |