CONOR MASON Standstill Armellodie Records ARM28CD/Digital Download (2012)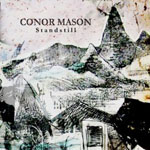 In many respects Conor Mason's 'Standstill' is an album at odds with our times. It's a record with an artistic aesthetic in a world full of text speak that values speed and instant gratification. It's one of those albums that is annoyingly familiar while stubbornly refusing to reveal its best moments until after repeated plays.
'Standstill' is a slow burner that demands patience, concentration and understanding, as it works on different levels, ranging from lyrical poeticism and subtle instrumentation to Conor's intuitive production skills. And it's only when you let the ten tracks breath and fill the room with their gentle warmth that you will fully appreciate a delightful record with enough substance and emotion to hold its own in the over populated word of singer songwriters.
'Standstill' gently washes over you like a refreshing summer rain. The songs insidiously permeate your consciousness on the back of gently flowing melodies and instrumental textures and Conor's ever present willingness to add tiny bites of studio trickery. His aching vocal style is full of subtle contrasts that resolve themselves in the gentle meander of his melodic narratives. He shifts from introspective lyrical fragility to insistent songs imbued by melodic confidence and delivered in a mostly whispered vocal style full of expressive phrasing.
Conor keenly understands the potency of a vocal sweep and the subtle uplifting emphasis on a word, vowel or phrase, as his songs shift imperceptibly into long harmony lines and gently nuanced backing vocals.
The more you play the album the more you realised the linkage between voice and instrumentation and the importance of an' in the moment' vibe, and an ambience wholly shaped by the intricate arrangements.
'Standstill' is an album that rarely slips out of first gear as Conor embraces mood, feel and lyrical emotion explored fully through the hues and colours of intricately woven layered sounds.
There's dreamy vibe at play on 'Lights' for example, which uses clever processed vocal whoops and a strong repeated chorus over a layered melodic keyboard line. 'Words' has already been offered as a free download and is effectively a teaser for the album. It's full of characteristic dreamy vocals and ambient sounds with nicely crafted production work, but it's a slight departure with its significant tempo change and a Simon & Garfunkel vocal line.
Perhaps the record company wanted to encourage us to appreciate the way Conor has upped his game from two DIY albums to overseeing a fully produced song such as this. Certainly the title track is closer to his natural habitat of a relaxed acoustic outing with floating harmonies and nuanced strings. It's a style that is most fully realised at the end of the album on 'A Picture of Farewell'. The beautifully crafted track cushions Conor's whispered words in layered sounds comprising sonorous strings, acoustic guitar, harp and a belated pounded drum pattern that underpins the outro and brings a sense of resolution and closure.
'Standstill' is the triumph of the whole over its constituent parts parts. 'Out Of the Blue' for example, incorporates elements of folk, soul and ambient music. You suspect the album's core is simple based around an acoustic and voice, but Conor's adventurous approach leads him to a multi layered musical vision with the kind of flowing melody and gentle electronics of '5AM'. Then there is the sonorous strings and evocative lyrics of 'Sundown'; 'And we gathered round, a beautiful sound, as the sun went down, on a day over this town'. The last gasp ascending piano line beautifully rounds off a lovely song.
And having delivered such a contemplative piece he adds a slightly broader brush stroke on the full band arrangement of 'Last To Leave' on which the repeated line, 'is anyone foolish enough to wait for me?' gives it a radio friendly hook that glides above a voice collage and a tinkling acoustic. 'The unexpectedly brusque waltz time intro and extravagant cymbal splashes of 'In The Doorway' is a surprise but not so the quality of the lyrics, which in any other context could be about his own multi layered music ; 'There's some kind of shape in the distance, it attracts you, you've got no resistance'.
And there's more; 'There's an anchor tied to the side of your ship, and they throw overboard what you parked for the trip'. The lyrics concern a 'sea of emotion' but could just as easily refer to music that draws you in and invites the listener to float along and revel in its melodic drift.
'Standstill' works on several different levels but its Conor's wistful vocals that lead you into a rich musical world that you could do well to find the time and patience to explore.
****
Review by Pete Feenstra
---
| | |
| --- | --- |
| | Print this page in printer-friendly format |
| | |