CLARE FREE Dust And Bones Funky Mama Records FMRCD1012 (2012)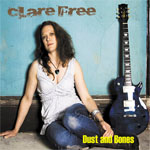 Clare Free is a blues artist with a difference. Her personal take on the blues is a mix of relationship songs and self help lyrics that exude optimism, confidence and an inner strength. And though 'Dust and Bones' is an inconsistent album, she sparkles on guitar but is ultimately hampered by a plodding rhythm section and minimal production that makes the album sound like one of those regional live BBC sessions.
That said, there's still plenty to admire and given a fair roll of the dice Clare Free could quite easily establish herself as a thoughtful song-led blues artist on a circuit that all too often heads for the lowest common denominator of verse, chorus and extended guitar solo.
Much like a folk singer she's unafraid to deal with the both the big and small questions in life, starting with the riff led shuffle 'Can't Slow Down', which is a thoughtful commentary on contemporary times and includes the insightful line; 'Vitality ain't kind to a human heart'.
Clare is big on self analysis but it often comes with a sting in the tale, as on the impressive title track on which she deconstructs a doomed relationship with some close to the mic breathy vocals. The song is predicated on a cool dynamic that explodes into a heavy duty shuffle and resolves itself with a catchy hook and some nifty guitar work.
Then she slips into a predatory role as the narrator on 'Little Miss Jealousy', and lays things on the line with the lilting shuffle of 'Believe In Me', which provides her with another album highlight.
She also explores self empowerment on 'Scars' and gets low down on 'Tempted' which finishes with the line; 'Hear My Demons, 'Talk to me in dirty ways, My self control, Slowly slips away'.
And in between the tales of life, love and lust, she comes up with one of the most lyrically original blues songs of our times on the percussive shuffle 'Small Miracles'. It's an unlikely tale about a successful birth against all odds and gives the song its apt title.
And then it's back to a relaxed groove and more self analysis on 'My Last Day', on which she adds a fine nuanced solo that is every bit as good as her earlier freboard work on the slow blues 'Stronger Than You Think'.
The latter song title might almost be interpreted as a veiled reference to the substance of many of her songs which given a better production and a hatful of gigs will surely develop to their full potential.
And if overall this is an album over-burdened with introspection, she finally balances things out at the end and cuts loose on the tough, guitar led 'Creepy', which comes with hard hitting lyrics and like 'Dust and Bones' is surely destined to become a pivotal part of her life set.
'Dust and Bones' is an album with enough strong moments to suggest Clare's got a bright future as both a songwriter and a band leader.
There's certainly plenty of room for improved vocals, much tighter arrangements, a better rhythm section and ultimately a better sonic quality. But she delivers enough originality and a radically different take on tbe blues to suggest there's plenty more good stuff to come from an original artist at the outset of her career.
***
Review by Pete Feenstra
---
| | |
| --- | --- |
| | Print this page in printer-friendly format |
| | |