CHRIS THOMPSON Berlin Live (CD/DVD) Gonzo Multimedia (2012)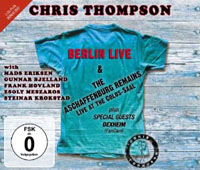 First of all let's get one irritation out of the way. The track listing on the CD in this set is wrong with two tracks transposed and one track seemingly not included. Very sloppy. Perhaps a slight diversion from an otherwise welcome release for one of the UK's best - and underrated - singers.
The CD is a full show recorded by Radio Berlin on June 4 2011.
Chris Thompson left Manfred Mann's Earth Band in 1996 but the greatest body of his work - and at least in terms of recognition - was recorded with that band so understandably this set is peppered with their tracks, such as 'Don't Kill It Carol', 'Runner' and of course 'Davy's On the Road' and 'Blinded By The Light'.
But the liner notes miss a trick and it would have been useful to signpost Thompson's overlooked solo output represented here by songs such as 'Wasting Time', 'Hot Summer Nights' and 'You're The Voice' (a hit for John Farnham).
The all-Norwegian band is excellent and overall - packaging aside - this is a worthwhile project bolstered by the DVD which includes tracks recorded at two different venues (with poorer audio quality on the 'fan-cam') although with a version of the 'missing' CD track 'Demolition Man'.
A problem with the recording meant that only 7 songs were salvaged from the gig at Colos-Saal. The bonus interviews are, though, somewhat disposable and not least raising the question: what happened to the track 'Thunderchild' ? Presumably lost in the Colos-calamity and sadly excluded from the radio setlist. ***½
Review by David Randall
David Randall presents 'Assume The Position' on Get Ready to ROCK! Radio every Sunday at 22:00 GMT
---