CHARLIE LANKESTER & THE MOJO KILLERS Song In A Minor Key Midnight Music MMLPCD001(2012)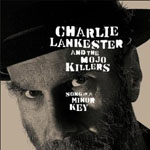 London-based Australian singer-songwriter/ pianist Charlie Lankester has long been a major talent on the capital's live circuit, whether working solo or with the likes of Otis Grand, Linda Gail Lewis and The John Warwick Allstars.
'Songs in A Minor Key' is an album that fulfils his song writing talent and personal ambitions. Most of the album was completed just before Charlie learned of his own significant health problems, but with a swathe of meaningful lyrics, and excellent playing, he's come up with an inspired, well crafted and highly personal take on the blues.
There's a full range of influences from swamp blues and traces of New Orleans to Latino rhythms, ballads and blues-rock in a full band context. The dozen tracks feature Charlie's deft piano work, poignant lyrics and brusque phrasing, alongside some cool horns, incisive guitar playing and a rich variety of rhythms.
'Song in A Minor Key' speaks from the soul and is fully realised by a band that sounds as if they've been playing together for years. Charlie's places the emphasis squarely on the songs and he's generous in giving his band plenty of room to express themselves, from the opening trumpet fanfare on the powerful 'Greed' to some sterling horn arrangements and eloquent guitar solos.
As you might imagine, each song is imbued with a mix of the wistful, reflective and personal. The gently brushed shuffle of 'Drink My Blues Away' for example, features an uplifting solo from guitarist Mark Hawkins, with Charlie on piano and a repeated horn motif from the fine Mojo Killers horn section of Paul Silver on saxophone, Gavin Broom on trumpet and Nick Mills on trombone
Charlie adds a clever mambo rhythm as he searches for his mojo on the impressive 'Brixton Road' before slipping into a moving and beautifully arranged, piano led ballad 'Out There', with a jazzy feel, cool horns and a Tom Waites style narration; 'When you wake up in the gutter, the devil's in bed with you, better have a drink or two; under your breath I can hear you mutter, so I won't ask no questions like what's become of you?
The inherent ebb and flow of the album is evidenced by the switch to the tougher blues-rock of 'The Spinning Wheel', which features more potent horns and a sing-along chorus that disguises thoughtful lyrics. 'In My Time' on other hand, is full of swampy echo reverb and insistent percussion and is a good example of a musical mood evoking the lyrics.
'Song in A Minor Key' is a well produced album full of subtle dynamics as evidenced by the waltz time title track on which Charlie's Noel Harrison style spoken vocals are given a polar opposite, strong musical backing'; 'Just when I thought everything was alright, a bad wind came in and blew out the light, I don't have the strength left to put up a fight, I throw myself on the mercy of the night'.
The tic-toc rhythm and closing piano break of 'The Real, Real Gone' and the boogie inflection of 'Rio Grande' help pick things up, with 'Rio' being full of cool restraint and a musical tension that is gloriously broken by a trumpet blast, as the band slip into swing mode with Charlie adding welcome piano.
'Ballad of Scarborough Beach' is all slide and mandolin and Charlie finishes with 'Closed Door', a mellow, keyboard led Latino groove with buzz guitar and more heartfelt lyrics; 'Calling for help, there's no help to be found, were taking the leap into unholy ground'.
The final percussion heavy Santana shred is almost as unexpected as the lyrical substance of this long overdue solo release. In sum an excellent album well worthy of Charlie talents.
****
Review by Pete Feenstra
---
| | |
| --- | --- |
| | Print this page in printer-friendly format |