ALVIN LEE Still On The Road To Freedom Repertoire (2012)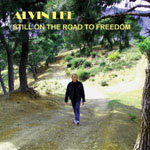 For most people, Alvin Lee conjures up an image of a battered Gibson ES-335 with a peace sticker and lightning fast licks as he wowed the Woodstock crowd in 1969. That gig, and subsequently immortalised in the film, catapulted Lee into rock consciousness and he managed to sustain his career with Ten Years After in the seventies until they split in 1974.
Since that time he has released several solo albums and always demonstrated his musical prowess, albeit sometimes patchily, but has also - by choice - pursued a fairly low key existence.
The latest offering is almost an update of his critically acclaimed seventies album 'The Road To Freedom' (and mimics that album's cover albeit without Mylon Lefevre) and was whittled down from 33 tracks. It seems Lee had no preconceptions about making this album and let the selected tracks form their own identity.
But it's the sheer diversity that may put many casual listeners off, with its mixture of acoustic rock ('Walk On, Walk Tall', 'Song Of The Red Rock Mountain'), blues rock (title track, 'Midnight Creeper', 'Save My Stuff', 'Blues Got Me So Bad', 'Nice & Easy' and 'Rock You') and rockabilly ('I'm A Lucky Man', 'Back In '69', 'Down Line In Rock').
Whilst it could be argued that it distils many of Lee's influences - and has always been a feature of his solo offerings including the last one 'Saguitar' - it is a giant leap from the mostly straight-ahead blues-rock he peddled with Ten Years After.
It will of course appeal to the hardcore fans brought up on his flashy widdle-diddle in the sixties who have kept the faith but there are no real surprises. And whilst Lee has this time sensibly enlisted the support of such luminaries as Tim Hinkley, the inclusion of 'Love Like A Man 2' seems a little lazy to me, although now in a more raunchy time-signature. Watch out, too, for the "hidden" acoustic coda.
This year, Alvin celebrates 50 years as a professional musician and it is good to hear a new album after some five years. Interestingly it may go some way to repositioning this legendary performer. However any reappraisal exposes the lack of a complete discography on the web, even on his official site. Hopefully there will now be an incentive to at least put that right.
***
Review by David Randall
David presents 'Assume The Position' on Get Ready to ROCK! Radio every Sunday at 22:00 GMT
---
| | |
| --- | --- |
| | Print this page in printer-friendly format |
| | |