AFFINITY The Baskervilles Reunion 2011 Angel Air (2012)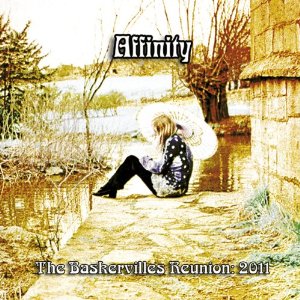 Affinity and Angel Air's revival of the band via several reissues also provides one of the more interesting reunion stories of recent years. A band that germinated in the hallowed halls of Sussex University back in the early sixties with future bass supremo Mo Foster, their story has been renovated by several excellent archive releases in recent years including singer Linda Hoyle's solo album.
Looking back at my review in 2004 of 'Affinity 65-67' I suggested 'how about a reunion?' The occasion for that came seven years later in September 2011 to tie in with the University's 50th birthday celebrations and brought together original band members and in addition respected jazz-rockers, pianist Gary Husband and guitarist Ray Russell.
But what made the band so intriguing back in the day is completely absent from this pristine modern recording. Strangely the setlist reads (and sounds) like a K-Tel covers collection stuck somewhere in the late 1960s. Even Linda Hoyle fails to light the touch paper during 'Fever' although her other vocal piece 'You Don't Know What Love Is' is a standout.
It could be argued that if the band had played their own music - even, dare them, the whole of their 1970 eponymous album - it may have alienated some of the alumni present and put dampers on the revelry. But for those who warmed to the band's smoky sixties charm with copious amounts of Hammond it would have at least provided an excuse to roll out the Rizlas and do Louis Balfour impressions.
I am sure it was great fun for all involved and not least an impressive feat of coordination. In fairness Affinity were renowned for their cover versions back in the sixties but this album is tame, limp, polite and with a complete absence of that glorious organ. For completists and musical geriatrics only.
***
Review by David Randall
David presents 'Assume The Position' on Get Ready to ROCK! Radio every Sunday at 22:00 GMT
---
| | |
| --- | --- |
| | Print this page in printer-friendly format |
| | |