Just witnessed your best live gig?.. send us a review!
WEYFEST
Rural Life Centre, Tilford, Nr.Farnham, Surrey
1-2 September 2012

What a delightful festival. What a delightful setting. The Rural Life Centre is a ten acre site comprising a series of old farm buildings, sheds, a 2ft gauge railway, corrugated iron school room, forge & foundry, chapel, old fashioned laundry and a pavilion rescued from nearby Godalming Cricket Club set amongst woods and clearings.
Accessed via a narrow and twisty country road (made busier by a local garden centre) in a quiet part of the Surrey countryside, there are few neighbours to annoy.
Squeezed into the largest of the clearings was a giant inflatable stage surrounded by the usual food stalls and purveyors of wet weather gear.
The festival officially started on Friday 31st August, but only for those camping, with three bands playing the Old Kiln Stage, the smallest of the three open air stages late in the evening (a fourth stage inside a hut housed the acoustic sessions), but all the stages housed acts from Saturday morning when the festival proper really started.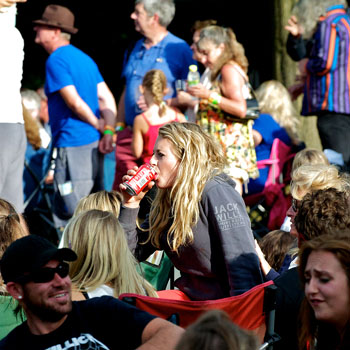 Saturday 1 September

The Old Kiln Stage on the Saturday was sponsored by local radio station Eagle and first up were Dorking based band Ambersand, who although listed as a punk band sounded more like the sort of stuff you'd expect playing in the background of that American teen drama The O.C. All rather bland I'm afraid.
The same could be said of the dreampop band Paper Boats that followed and the third band, The Toniks. Each of their sets sounded as if they just had the one tune and had just changed the lyrics and the odd note here and there.
Next on the Old Kiln stage were Unsung Lilly, a band that I had seen play the Good Times Guide stage at Guilfest. The more intimate surroundings of this stage, with a barn and farm buildings opposite and trees all around, suited their style far better than a typical festival stage (such as at Guilfest, where they seemed rather lost) though I thought that their cover of Roxanne was poorly executed.
Another band from the Guilfest roster, Weyward Chile, came next. In my Guilfest review I had said they were more style than substance and their set at Weyfest did nothing to make me change my mind. If frontman Karl Whiteman spent a little less time trying so hard to look rock'n'roll on stage and concentrated more on his delivery of the songs maybe I could take this band more seriously, but the vocals are muffled and sometimes mis-timed as he struggles to "look good".
Following them were Woking based The Stanley Blacks who weren't at all bad for an indie band. By that I mean each song actually sounded slightly different from the previous one, which was more than could be said for final act of the day Cities of Glass. They weren't bad... indeed, they were actually very tight, but there was nothing on offer from them that was different from any other indie band. Had I been blindfolded I wouldn't have been able to tell them apart from any of the other hundreds of indie bands I've had to endure listening to this year.
The Village Green Stage, with the cricket pavilion at the top end and the railway winding around the back and side of the stage, started off with KFC, a band who try to be funny but end up taking themselves far too seriously. Certainly their brand of shouting-whilst-jumping-up-and-down is to music what Kentucky Fried Chicken is to haute cuisine and the less said about them the better.
They were replaced on stage by The Flying Tigers playing mainly rhythm and blues covers to a good standard which got the sparse crowd tapping their feet and dancing (the set kicked off with Hoochie Coochie Man and followed on with Dr Feelgood's One More Shot). This is exactly the kind of band that should be on early at a festival.
Instead of some of the dire indie bands, decent covers bands playing songs everyone knows and can dance along to is, in my opinion, by far the best way to warm up a slightly sleepy festival crowd for later delights.
Following them were Steve Roux & The Brass Knuckle Blues Band (also seen at Cambridge Rock Festival) who continued the feel good vibe started by the Tigers and continued with former Mungo Jerry guitarist Paul King and his band The Skeleton Crew who played many covers including Maggie's Farm, Knockin' on Heaven's Door, Sweet Home Chicago and Gimme Some Lovin'.
There then followed a set by Kangaroo Moon who fuse rock with folk, world music and dance. I can't say I was altogether convinced by what I heard; it just felt as if they weren't sure what style suited them best so played a bit of everything.

What can I say about the next band on stage other than I, and all the others who witnessed the performance, were blown away. The Mini Band are a group of 8 to 12 year olds (yes, you read that right) and while I know Mozart was writing symphonies whilst still in nappies, the level of musicianship displayed by those so young was still truly amazing. I wouldn't at all be surprised to see a few of them back at Weyfest in 10 or so years time fronting their own bands, and, who knows, maybe even headlining one of the stages.

There then followed an hour break, once The Mini Band had finished, in order to ready the stage for the final two acts of the evening on The Village Green stage.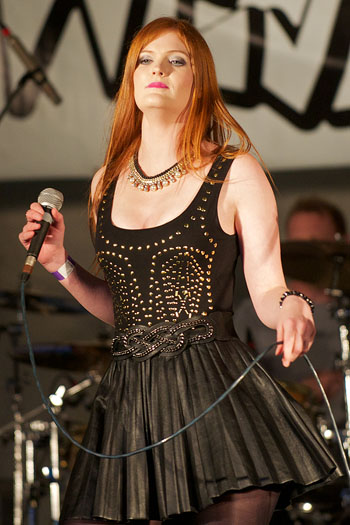 Like a few other modern prog bands Karnataka have seen many a line up change, and from the original seeds sown in 1996, only Ian Jones remains, though guitarist Enrico Pinna has been an ever-present since the 2006 incarnation that now includes Colin Mold on guitars, violin and keyboards, Matt McDonough on drums, Cagri Tozluoglu on keyboards and the vocal talents of Hayley Griffiths.
I have to admit right now that when I first purchased The Gathering Light from their web site I promptly fell asleep when listening to it for the first time, and listening to this live set I could feel myself doing the same thing.
Many, many weeks ago I purchased the rest of the Karnataka catalogue in an attempt to properly get to know their music before this festival, constantly listening to them in the car when driving to other gigs, when working in my studio or when editing photos.
Sorry, but Karnataka's prog folk is not for me, however delightfully Hayley may sing. With no set list taped to the stage floor, and no songs being announced I have no idea what they played, other than to say it made me want to leave. I have no doubt that their many fans attending absolutely loved their set, but I also know from overhearing conversations elsewhere that others were driven away to other stages. Very much a Marmite band.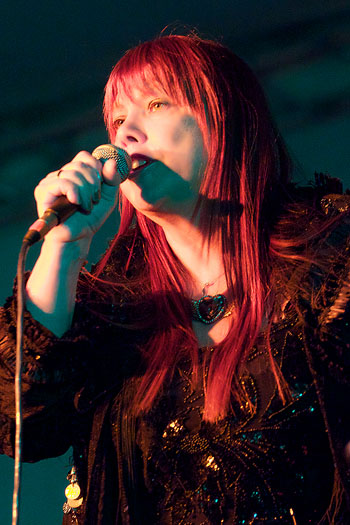 Final band on this second stage were Curved Air, who back in the day were known for their ultra-theatrical performances when playing live... some even described them as decadence on stage. Of course that was some 40 or so years ago so things were bound to have changed.
With my photographer's hat on, I have no time for bands who insist in being bathed in either green or red lights only, and while some of this may be down to Sonja Kristina not wanting to be photographed now that she is no longer a sylph-like figure, it makes for an altogether unappealing visual experience. While her voice remains strong, it all just sounded very dated, especially their renditions of It Happened Today, the first track off their first album, early in the set and, later on, Back Street Luv.


The Beekeepers Stage (or main stage to you and I) started off with Tommy Justice who has fronted various Hertfordshire based bands all of whom claim at some point or other of winning a "Battle of the Bands" competition.
I've seen quite a few such competitions and it's usually won by the act who can bring the most mates down. The sparse crowd in front of the main stage were not there for Tommy, but just making sure of having a decent place to plant their garden chairs for later, and the muted reception his set received (apart from 3 girls right at the front screaming his name) was about right.
In spite of penning a song entitled Every Inch A Rock Star, there was very little star quality on display. Oh and by the way, whilst Whiskey in the Jar (which he played mid set) may have been made famous by Thin Lizzy, they didn't actually write it, as you proclaimed; it's a traditional Irish song!
Freeway Jam, on the other hand, have honed their craft over 20 years or so. The mix of Ben Bennion's writing skills and the general musicianship of the band as a whole was on another level completely to what had just passed.
The sound was a mix of Stones, The Band and Little Feat and the ever increasing crowd taking their places in front of the main stage showed their full appreciation of the musicianship on offer.
My favourite was their cover of The Lovin' Spoonfull's Summer in the City though they also did a passable cover of House of the Rising Sun too. From their own songs, Thirty Years Too Late, the sort of song you could imagine having been penned by Neil Young, deserves a mention.
Then it was time for a bit of much appreciated reggae courtesy of Bristol based The Rhythmites before perennial Weyfest favourite Leatherat entertained the crowd with some hi-octane rocking folk.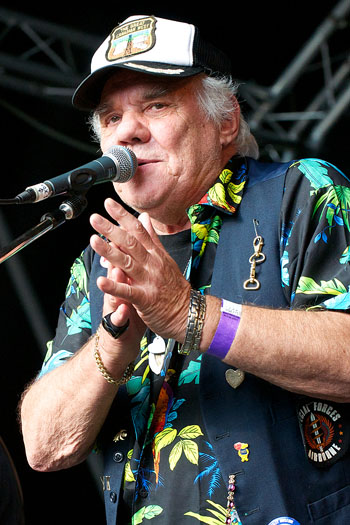 Next on stage was Jackie Lynton, former Savoy Brown Blues Band frontman and Rick Parfitt's songwriting collaborator on some of Status Quo's hits who played some ballsy blues rock interspersed by the usual blue jokes one can expect from him. Highlights for me were Five Card Hand and I Think I'm Better Off With The Blues.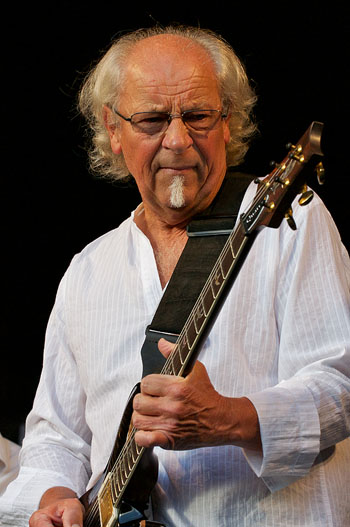 Martin Barre's New Day then took to the main stage, the (former?) Jethro Tull guitarist being joined by John Mitchell of It Bites on vocals and Tull's Jon Noyce on bass.
Amongst the set I recognised Minstrel in the Gallery, New Day Yesterday, Teacher and Song for Jeffrey, but was it just me or was there no Aqualung?
Anyway, while I have enjoyed It Bites gigs in the past, I didn't think John Mitchell's vocals quite suited these songs... it needed a stronger, gruffer voice.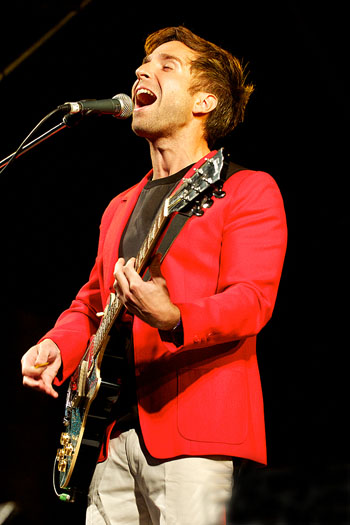 Originally the line up for this stage had included Roy Wood, but quite some weeks ago he pulled out and was replaced by The Hoosiers; not exactly a like-for-like replacement and listening to them play reminded me why I hadn't much liked them first time around.
The set included all their hits (yes both of them!), Worried About Ray and Goodbye Mr A, along with less successful singles Cops and Robbers and Bumpy Ride. A largely forgettable set by a largely forgettable band. Next!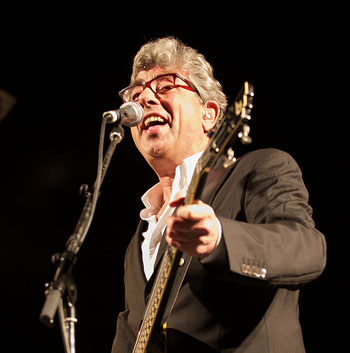 The headline act for the main stage on Saturday was 10cc. The last time I had seen them live (in 1975) the line up had still included Messrs Godley and Creme so I was intrigued to see what this particular incarnation of the band would be like.
I was not disappointed. Hit after hit was played flawlessly by Graham Gouldman on bass, Rick Fenn on guitar, Mick Wilson on any and every instrument he could lay his hands and Paul Burgess on drums; Wall Street Shuffle, The Things We Do For Love, Good Morning Judge, I'm Mandy Fly Me, Life is a Minestrone, Art for Art's Sake, Donna, I'm Not in Love, Dreadlock Holiday and to finish things off, Rubber Bullets, which turned into an extended jam session. A superb end to the evening.
Andy Nathan writes: Given that only Graham Gouldman is left from the original quartet of 10cc songwriters, and that they seem to be on the 'scampi in a basket' touring oldies circuit, I was rather sceptical about them beforehand, joking that they should be named 2.5 cc.
However they fully justified their Saturday night headline billing with a set which, right from the openers 'Wall Street Shuffle' and 'The Things We Do for Love', was a reminder that in the 70's they made pop singles that lyrically and musically were so much smarter than those of their peers.
Graham had an easy charm that won over the audience while Mick Wilson, who takes the vocals on many of the songs Eric Stewart originally sung on, has a superb crystal clear voice. Guitarist Rick Fenn, who produced some tasty slide guitar on Good Morning Judge, and drummer Paul Burgess have connections going back to the seventies to add some authenticity.
It was a Greatest Hits set with instantly recognisable songs like 'Arts for Arts Sake' and 'Life is A Minestrone' though they dipped into a few album cuts, including 'Feel the Benefit' where the band's progressive tendencies were given greater reign.
After a run of hits in Donna, The Dean and I with its catchy 'humdrum days' refrain and the incomparable 'I'm Not In Love', by the time of a slightly different sounding 'Dreadlock Holiday' everyone was singing along, and an encore of 'Rubber Bullets', elongated with a sax solo from Mike Stevens, had the crowd boogieing. A thoroughly enjoyable pleasant surprise of a headliner.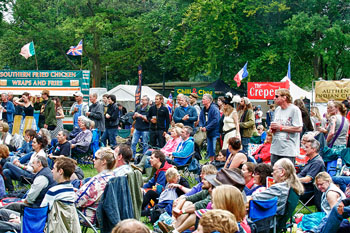 Sunday 2 September
Bob Singleton continues: Thanks to the car boot sale at Nuthill Farm on the A3 I arrived later than planned on the Sunday so missed the first couple of bands on the Old Kiln Stage, so the first set I saw there was Stevie "One Bloke, One Mandolin" Simpson who I have seen many a time at the Bulldog Bash and other festivals in the past. He has a fine voice, knows how to play a mandolin and obviously has a large stash of Hank Williams, Steve Earle and Waylon Jennings LPs at home.
Following Stevie were local Farnham band Solid Juice, who according to the programme notes are "elements of Steely Dan mixed with the atmosphere of Pink Floyd". Er, no! Raunchy rock'n'soul maybe (though nowhere near as accomplished as Saint Jude, for example), though closer to good old honest pub rock to be fair.
Some of the songs were their own but these were interspersed with covers, such as Steve Harley & Cockney Rebel's Make Me Smile (Come Up And See Me). Some former members of the Bonzo Dog Doo Dah Band, Bob Kerr's Whoopee Band and The Temperance Seven, in the form of Bill Posters Will Be Band, then entertained an ever increasing crowd.
Terrible jokes, dodgy props and absolutely wondrous entertainment. Every festival should book them for the fun they bring.
Another local band, Grizzly & The Grasshoppers then followed with some bluesy rock and slide guitar... not at all bad and a very pleasant change from the mostly indie bands of the previous day.
What to make of Julia K, though? Some hard hitting rock, some ballads, all wrapped up in a goth look. I don't know enough about her work to comment more, but I think one of the songs on the set list was Strong and I think I also recognised a cover of Monster.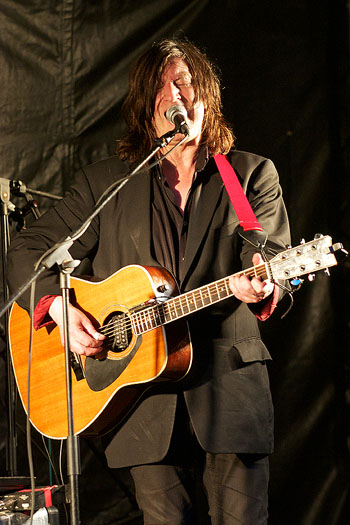 The last band I saw on this stage (yes I know Serious Blues were the final act, but with clashing start times on other stages and "first 3 songs no flash" rules to adhere to in the photo pit, I had to give them a miss, sadly) were Irish folk duo TÝr Na Nog. They mix gentle Irish folk with heavier rock sounds; a blur of acoustic guitar, fiddle and close harmonies, interspersed with stories about how the songs came about.

The Village Green Stage had started with pub skiffle group The Charley Farley Sunday Four who played a mix of popular pop and country songs followed by Weyfest regulars The True Deceivers with their brand of folk rock and Americana.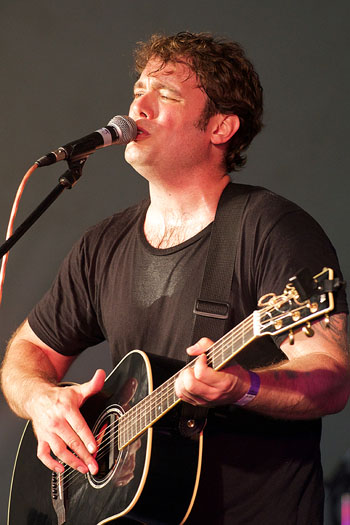 More folk rock was to be had in the form of Little Johnny England before the crowd were entertained by the amazing guitar playing of Rodney Branigan, a man who fuses the individual talents of Rodrigo Y Gabriela with a Paul Simon type style. Yes, this is the man who, at times, uses the guitar as a beat box while strumming or more amazingly, plays two guitar at once!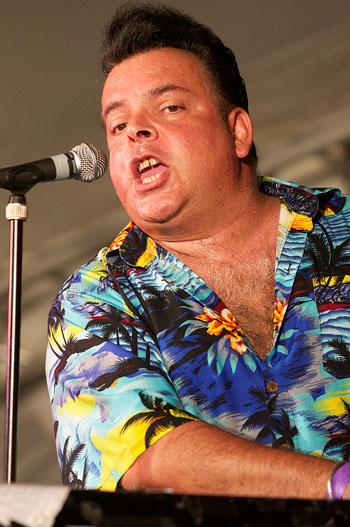 How do you top such a performance? Well with someone like Mike Sanchez, of course! Mike who? The man who was part of Bill Wyman's Rhythm Kings, who has played with Andy Fairweather-Low...the man who sweats gallons into his suits as he plays boogie woogie from his piano, that's who! If you like Jools Holland but have never heard of Mike, I strongly suggest you find his web site and get along to one of his gigs. Superlative stuff.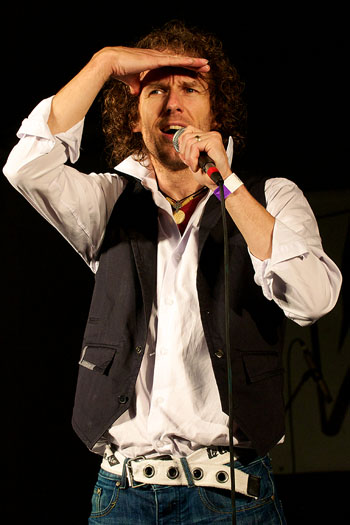 If only his had been the last set of the day on this stage, things would have ended on a high. However next on stage were After The Fire, a band who in their early days in the 70s had started off as a prog rock outfit but who over the years had become more electro-pop.
The fact that they only had one UK hit (One Rule for You which only barely made it to number 40 in 1979) should have been enough of an indication to the Weyfest organisers that the penultimate slot on this stage was perhaps a few places too high up the bill.
According to their own website they blame Top of The Pops for choosing to play Gary Numan's Are Friends Electric instead of One Rule For You for their lack of commercial success. Let's be honest for a minute; if they had really been that good they would have had greater commercial success irrespective of this perceived slght. Talent will out, as Freddie Mercury once said.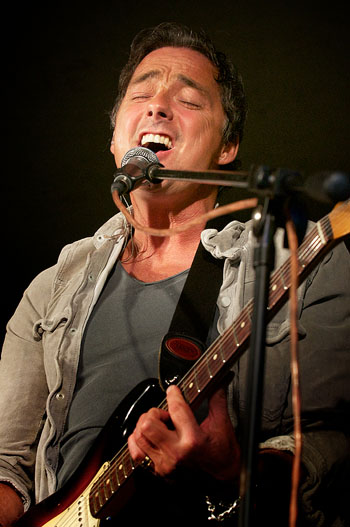 Then things got really bad. In spite of there being a 45 minute gap between the end of After The Fire's set and the next act, technical difficulties meant Go West, the final act, took to the stage almost half an hour late. I really couldn't understand how a simple drum kit, a few amplifiers and some microphones (essentially a basic back room of a pub backline), could take so long to set up.
However, this delay meant I only stayed long enough to get a few photos before heading for the main stage for Asia (mindful of the "first three songs, no flash" rule in the photo pit) so I can only imagine that they played a selection of their better known songs along with some of the newer songs from their triple EP 3D. Of course, as I left I was unaware that Asia too were having technical difficulties of their own.


As I made my way from the car park through the campsite to the main gate I could hear Vibracore on the (main) Beekeepers Stage... what a way to wake up the crowd on a Sunday morning!
Heavy hitting, sleazy, psychadelic blues rock... a sort of mix of Red Hot Chilli Peppers and Skunk Anansie meets the bastard child of Muddy Waters. A band well worth seeking out again and deserving a place higher up the bill. They were followed by The Great Malarkey a seven-piece gypsy punk band from North London. It's quite a mix of a set; She Said is a folk punk mariachi style song, while Badman is a Clash style punk reggae tune.
Also in the set are past single Merry Profits and the ode to the hellhole that is Dalston Job Centre, Moneybags. I found them reasonably entertaining, but the drummer screaming "I can't hear you" (in effect requesting applause from the audience) did little to endear them to some. A little more humility needed, perhaps?

Third set of the day on the main stage came from Farnborough based indie band Grand Mort. Utterly, utterly dreadful stuff. Tedious mediocrity of the lowest form. Possibly the worst of all the indie bands we had to endure during the course of the weekend, and many of them were quite bad.
This really was a case of just the one tune played over and over again at different speeds and with different lyrics. To make things worse, once the guitarist had told us the name of the song and a little back story, the bassist decided to repeat the information.
Come on guys, make your mind up as to who is the front man and let him, and only him, do the talking. Mind you, had they not repeated themselves, the time saved could have meant an extra song in the set, so, small mercies and all that!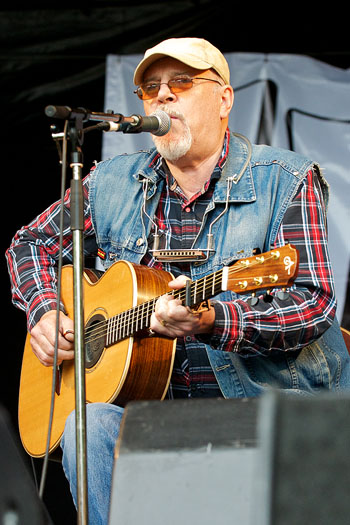 From here on in things just got better and better on the main stage, in musical if not always technical terms (more of which later). Jackie McAuley, ex-Them and Belfast Gypsies guitarist, put on an acoustic set that was very well received by the growing crowd and included Rockin' Shoes, Country Joe and Turning Green.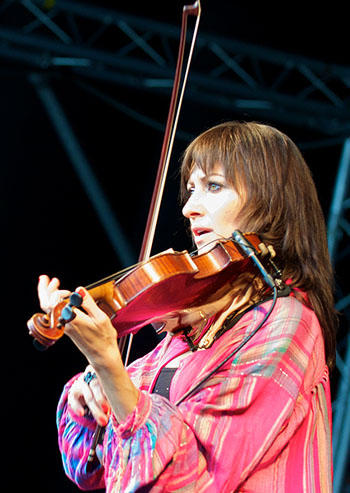 Next on stage was former Oi Va Voi, Jethro Tull and Trans Siberian Orchestra violinist Anna Phoebe. I admit I knew very little about her before seeing her at Weyfest other than her partner is BBC journalist and Prog Rock Awards presenter Gavin Esler and that she was in TSO. Her combination of rock with classical, gypsy, Celtic folk, Middle Eastern and Indian music creates a truly wondrous sound and her stage presence is equally electrifying.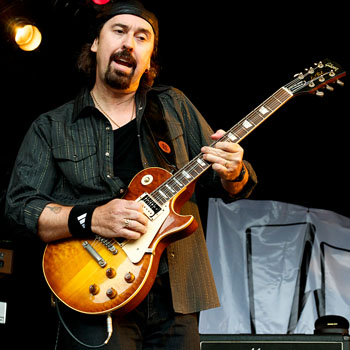 You know what you're going to get with Snakecharmer; a "battle of the axes" from Micky Moody and Laurie Wisefield, thumping bass lines from Neil Murray and screaming vocals from Chris Ousey.
You're also going to get songs like Here I Go Again and Fool For Your Loving amongst others, and while the Micky Moody slide solo is now getting a tad passÚ, it was good to hear new song Accident Prone. Maybe I'm wrong, but it didn't look like Harry James on drums this time.

Andy Nathan writes: The name Snakecharmer may have been unfamiliar to many of the Weyfest punters, but they would soon have realised the pedigree of the band from the moment they opened with 'Walking in the Shadow of the Blues' - stalwarts of the original Whitesnake, Micky Moody and Neil Murray, recreating those days with a top class band of seasoned musicians.
Yet after 'Ready And Willing' saw Micky and ex Wishbone Ash and We Will Rock You house band guitarist Laurie Wisefield trading lead lines in improvised, almost jazzy fashion, came a new song 'Accident Prone', complete with a twin lead guitar solo, which augurs well for the future.
Micky, who I have rarely seen smiling so much, then played a trademark slide guitar solo before cheekily ending it with a Coverdale-esque 'ere's a song for you' to lead into 'Slow an 'Easy'. Ex-Virginia Wolf and Heartland singer Chris Ousey, while no Cov clone, has the vocal range and depth to do the songs justice though on this occasion his attempts at crowd participation rather fell on stony ground.
But after 'Aint No Love In The Heart of the City', with a keyboard solo from Adam Wakeman who was rather out of sight at the rear of the stage, the crowd were ready to party on to two of the best loved classics in rock, 'Here I Go Again' and 'Fool For Your Lovin', the latter with a great guitar break as Laurie's solo segued into Micky's seamlessly.
My one grumble was that with only 50 minutes to play with they should have cut the solos to a minimum and squeezed in an extra song or two, but with musicians and a back catalogue of this pedigree, Snakecharmer threatened to steal the show.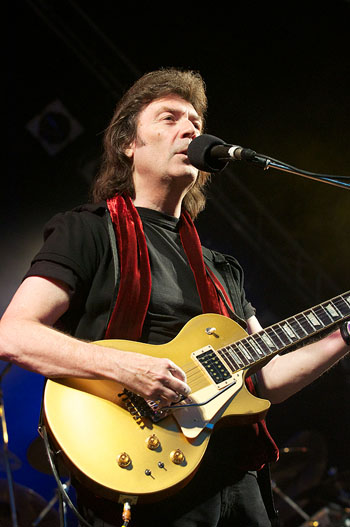 Bob Singleton continues: Steve Hackett was much of the heart and soul of early Genesis, but his career since, both as a solo artist and collaborator in other projects, has blossomed unabated. With Amanda Lehmann on guitar by his side on stage also providing backing vocals we were treated to a mix of the old and the new.
From last year's Beyond The Shrouded Horizon album we got Loch Lomond, The Phoenix Flown and Waking to Life. From the Genesis era he played, among others, Fly on A Windshield, Los Endos and the gloriously symphonic Firth of Fifth.
Of course a Hackett gig wouldn't be a Hackett gig without Every Day and the whole set just oozed the quality one expects from a man who has been at the top of rock tree for over forty years.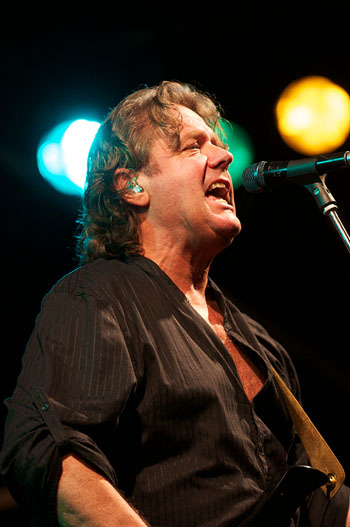 The headline for the Sunday were the magnificent Asia; John Wetton (ex King Crimson, Roxy Music, Uriah Heap and Wishbone Ash) on bass and vocals, Steve Howe (ex Yes) on guitar, Geoff Downes (ex Yes and The Buggles) on keyboards and of course Carl Palmer (ex Atomic Rooster and ELP) on drums.
Amazingly this was going to be my first live glimpse of the real Asia (I'd seen Asia without John Wetton in the early 90s) so I was as disappointed as many of the audience with the technical difficulties that beset them. It seems that while the sound pumping out to the audience was fine, nothing was coming from the monitors and until it was all sorted, they weren't playing.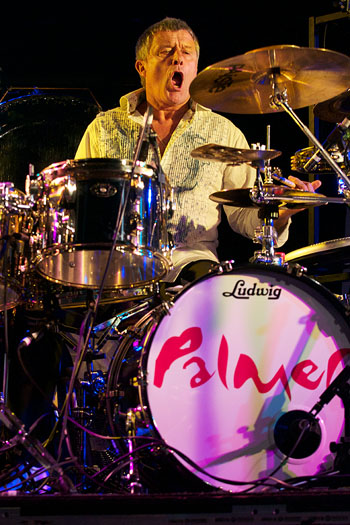 With a 10.30pm curfew to be strictly adhered to, this meant a far shorter set than originally planed. I don't know what songs were culled from the original set list (though I suspect they were the newer songs) but what we got was a condensed, concentrated, no additives 40 minute "greatest of the greatest" hits which included Only Time Will Tell, Wildest Dreams, Time Again, Holy War, The Smile Has Left Your Eyes, Heat of the Moment and Sole Survivor. Short but very sweet.
Andy Nathan writes: Sadly technical problems meant that Asia's set had to be almost cut in half to 45 minutes before the curfew kicked in. I am not sure what had to be cut, but was disappointed not to hear the new XXX songs live for the first time as in the time available they stuck to a set of classics, though both band and audience seemed rather tentative during opener 'Only Time Will Tell', as if expecting the gremlins to kick in again.
Their self titled debut naturally featured heavily, with some superlative musicianship - notably Carl Palmer's ever committed drumming - allied to melodic songwriting on 'Wildest Dreams' and 'Time Again'.
John Wetton, whose hair seems to have grown longer again, was on fine vocal form and also joked that he hoped the vicar of the local church where he had once been married was not present.
On 'The Smile Has Left Your Eyes', he began almost acapella with only Geoff Downes' keyboards for company before the band kicked in, and such was the heart and soul John poured in that he adopted the classic 'AOR pose' of head tilted back and fists clenched in front of his chest.
After the incomparable 'Sole Survivor', there was just time for 'Open Your Eyes' which reached a memorable musical climax as Carl's powerful drumming matched Geoff's keyboards in an ever faster duel, before Steve Howe added an equally rapid flurry of notes on top.
The encore was inevitable 'The Heat of the Moment' and at last a song that people could sing along to, although in a slightly strange arrangement where the song seemed to have finished before the crowd participation started up, and I missed Geoff not coming up front with his keytar as in the past.
It was disappointing for those who had come specifically for them to see such a short set, yet perhaps it did Asia a favour as they could still demonstrate brilliant musicianship but did not have the time to descend into the self indulgence they are liable to. It certainly rekindled my love for their music and left me already anticipating the winter tour.
Bob Singleton continues: My first visit to Weyfest has left a good impression. The good music far outweighed the bad and the soulless (please... not so many indie bands next time) and the festival is extremely well run and very friendly.
I understand from some of the campers that a few more loos dotted around the campsite would be nice (for some the nearest one was at the other end of the site, so a bit of trek in the middle of the night) but overall it's a perfect little festival in a perfect setting.
Most of the food stalls got reasonable to good reviews (and the permanent cafe is excellent, too) and the place never felt overcrowded yet all the stages were well attended for the main acts. Definitely one for your diaries.

Musical highlights for me were Asia (in spite of the cut-down set), Steve Hackett, Anna Phoebe, Vibracore, Mike Sanchez, 10cc, Martin Barre, The Rhythmites and let's not forget The Mini Band! The low points were all the indie bands, especially Grand Mort, who I hope never to have to listen to again.



Review and photos by Bob Singleton
Additional reporting: Andy Nathan
You can use the direction keys on your keyboard to navigate easily through the photo gallery or - in Windows - flick from one photo to the other using the mouse wheel.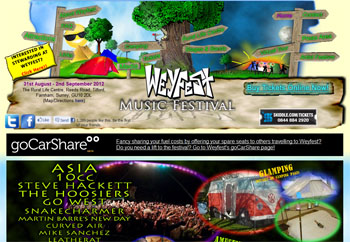 ---