Just witnessed your best live gig?.. send us a review!
Rod Argent is Featured Artist (May 2012) at Get Ready to ROCK! Radio
THE ZOMBIES
Shepherds Bush Empire, London 27 May 2011
Photos by Noel Buckley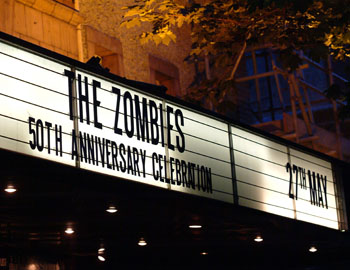 The Zombies 50th anniversary show neatly topped and tailed the band's stop-start career up to and including the newly released 'Breathe Out, Breathe In' CD. And if tonight provided few surprises, it turned out to be a timely celebration of the life and times of the extant Zombies personnel and the successful spin off solo careers of Colin Blunstone and Rod Argent.
And judging by the array of different languages at the bar, the band's international influence shines on brightly, albeit with an audience who for the most part were grateful for the additional seating provided on the night.

But, no matter, to share an evening with The Zombies is to embark on a journey through one of rock's most enduring back catalogues.
It was an occasion to pay homage to a band who created some of the 60's most essential psychedelic tinged pop and who only years later gained their deserved critical acclaim.
It's good to report then that the inclusion of the new material brought an extra dimension to the set and suggests they have successfully updated their own unique style.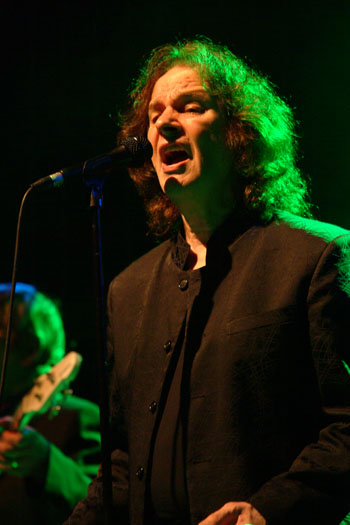 In some ways the core duo of Colin Blunstone and Rod Argent make strange bed fellows. The prodigious song writer and keyboard playing Rod Argent is the rocker whose material takes us from delicate ballads to rougher hewn rock anthems while Colin's delicate vocal swoops, breathy phrasing and Candide like presence brings full expression to a succession of Zombies classics.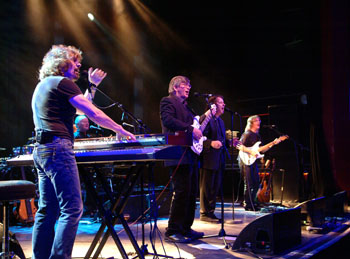 Zoom (Click large image to cancel)
And on the occasion of their 50th anniversary show, we were treated to two appearances either side of the interval by the other surviving original members of the band, the celebrated song writer and bassist Chris White (who still has a good voice) and drummer Hugh Grundy who brought some serious bottom end to the proceedings along side a 4 piece horn section.
After overcoming a ropey start in which the mid tempo openers such as the stop-time dynamics of 'I Love You' and the bluesy ballad ''Can't Nobody Love You' came dangerously close to cabaret, things stepped up a gear with the title track of the new album 'Breathe Out, Breathe In'.
Rod delivered an impressive muscular vocal on 'Show Me The Way' from the new album while Colin was no less impressive on one of his very best self penned efforts 'Any Other Way', which featured Tom Toomey on acoustic and seemed to be played at twice the speed of the recorded version, but still worked brilliantly.
The band's penchant for bv's and 'oohs and aaahs' fitted well on Colin's cover of 'What Becomes of the Broken Hearted', complete with a startling opening metal riff and he brought real presence to bear on a cover of Alan Parson's 'Old And Wise'.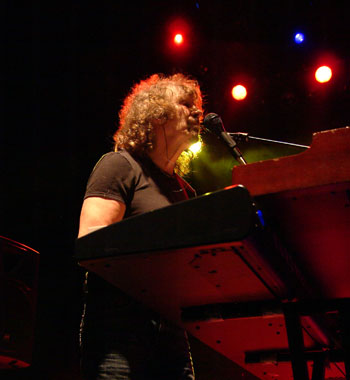 And so to the band's core history as Rod introduced a 6 songs cycle from their recently re-issued masterpiece 'Odessey & Oracle'. As with several sections of the show, Rod introduced some of the songs in pairs, which had the virtue of providing a meaningful context and giving a sense of place to the 44 year old material, even if it did kill any semblance of surprise.
But there was no doubting the lyrical poignancy of 'Care of Cell 44' and Colin provided one of the moments of the night with his understated but masterful phrasing on 'A Rose for Emily'.
And while Rod's meandering Procol Harum influenced organ line just about carried along the slightly pedestrian 'Beechwood Park', 'Time of the Season' once again underlined one of the main reasons for the band durability.
The second set asked us to skip 4 decades and embrace new songs such as the Beatles influenced 'Play It For Real', the sweeping vista of a 'A Moment in Time' and the gospel influenced four part harmonies of 'I Do Believe'.
There was still time for a quick glance over Rod's shoulder for Argent's anthemic, clap along 'Hold Your Head Up' and a delightful stripped down version of Gershwin's 'Summertime'.
'She's Not There' was played twice as part of the encore, this time reprised by the full 12 piece ensemble to provide another one of those spine tingling Zombies moments.


Review by Pete Feenstra
Photos by Noel Buckley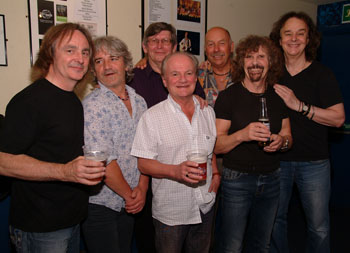 ---
Interview (Rod Argent)
---