Just witnessed your best live gig?.. send us a review!
Y & T/Stampede, The Garage, Highbury
14 October 2011
Photos by Noel Buckley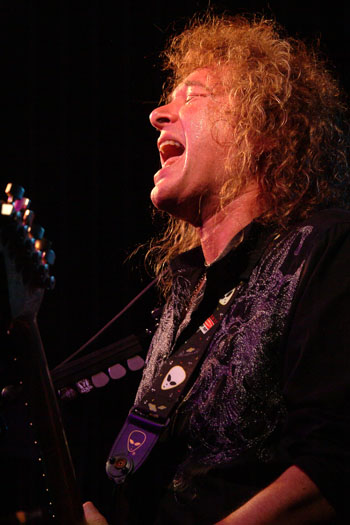 A decade ago, Y and T were invariably one of those should have been huge bands from the eighties who cropped up in 'where are they now' conversations. Yet now you can set your watch by their autumn tours of the UK, this being the sixth in succession. The same fans come back over and over again, and rightly so as they deliver the goods and more every time.
First though, Stampede proved that UK bands who fit the same description can come back from the dead too.
With a first album in 28 years, A Sudden Impulse under their belts, they proved the perfect warm up act. Three of the original line up are still there, including Reuben Archer who still has the hair, the stage moves and the vitality you have no right to expect from a trouper well into his sixties, his stepson, hotshot if rather dour looking guitarist Laurence Archer, and solid bassist Colin Bond. Recently a second guitarist in Chris Clowsley has been added to a line up completed by drummer Steve Graystone and he very effectively thickened out the sound.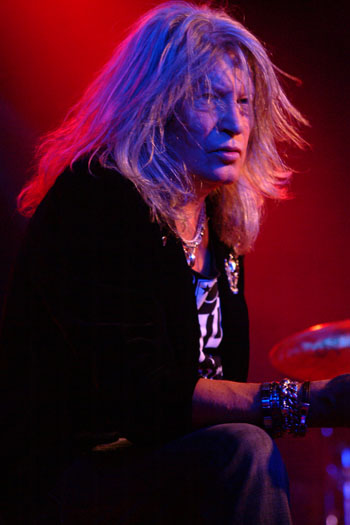 Opening with Shadow of the Night which sounded uncannily like Chapman era UFO (small wonder Laurence did a stint with the band), new songs such as the groove-oriented Having Fun and Send Me Down an Angel (with a riff that sounded like Stone in Love and a bold audience singalong) nestled comfortably alongside such long forgotten gems as Days of Wine and Roses, and perhaps the best song of the set Missing You, with an outstanding solo from Laurence.
Moving On and The Runner ended a short 35 minute set with many people wanting more, and it is to be hoped Stampede's unlikely revival continues with some longer headline sets.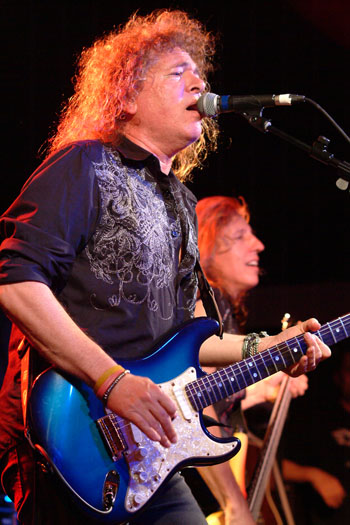 That set the scene nicely for another marathon Y and T set, with new song On With the Show proving the perfect call to action, before it was straight into some of their classics in Black Tiger and Dirty Girl, plus a pair from Mean Streak, the uncompromising title track and Midnight in Tokyo, which with its twin guitar intro and outro and its galloping riff, is perhaps my all time favourite Y and T song.
Centre of attention as always is Dave Meniketti, now the sole original member but always the focal point of the band with his strong singing and incendiary guitar playing.
To play both roles cannot be easy, and yet he puts his heart and soul into both and his sweat soaked energy is always a wonder to behold, especially for a man nearer 60 than 50. Long-haired second guitarist John Nymann and powerhouse drummer Mike Vanderhule are now relative Y and T veterans and a key part of the sound.
Sadly this was the first tour since the passing of long-time bassist Phil Kennemore, but his replacement Brad Lang fits in easily with his archetypal LA rock star shapes, though his bass playing seemed to these ears a bit less bottom heavy in comparison.
Shine On was dedicated to Phil's memory, leading a trio of songs from last year's Facemelter album, If You Want Me with a great solo, and Blind Patriot, going back to Y and T's heaviest rocking early days with the guitarists swapping lead breaks.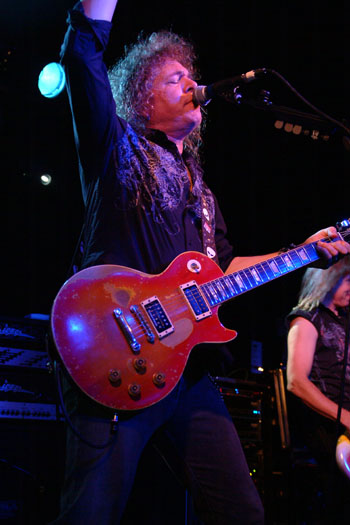 One of the many admirable facets of a Y and T show is the regularity with which some of their lesser played songs get slipped into the set, and even differ night to night. On this occasion what the Yanks call the 'deep cuts' were Surrender from 1990's underrated 'Ten' album- dedicated to a fan from Japan - Winds of Change and Lonely Side of Town, with a great melodic chorus.
The tour also marked the 30th anniversary of their breakthrough album 'Earthshaker': it was not featured as heavily here as on some of the other tour dates, although opening cut Hungry for Rock, with its raw almost AC/DC esque feel, was given a rare dusting down. From the same album though, a personal highlight was the epic I Believe in You and a truly incredible extended solo from Dave as he wrung every last ounce of emotion from his battered Gibson SG.
By now we were into 'hit' territory and Hurricane, Summertime Girls- the best Van Halen song they never wrote- and dance floor filler Rescue Me had the place rocking, too much so in the case of some slam dancers old enough to know better!
Another obscurity in 1985's Looks Like Trouble was in the same mould as Barroom Boogie which was unexpectedly omitted, while a surprise of the night saw John take the mike and reveal Dave had asked him to sing Phil's old signature song, Squeeze. I hope it isn't disrespectful to say that in my view he did a better job, with a voice that reminded me of Styx's James Young.
It was also refreshing that they should finish with another newie in I'm Coming Home, and by now the official 1030 curfew had already been exceeded, but Y and T give their fans full value for money, and took the set to a marathon 2 hours 25 minutes with a brace of encores.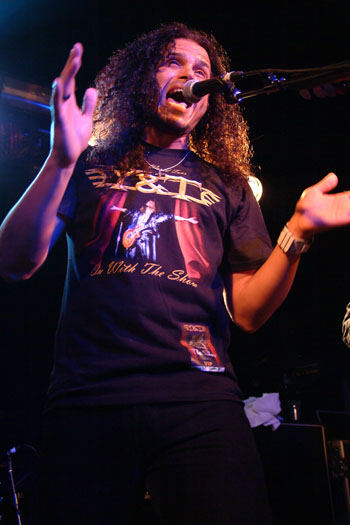 Open Fire was no less enjoyable for being moved from its traditional place opening the set, then long-time Y and T fan Jeff Scott Soto was brought on and effortlessly slotted into sharing vocal duties on Forever, which had the whole crowd bouncing, singing and punching the air.
An underrated band with a great back catalogue who give their all, vary their set for the fans and play non stop for well over 2 hours- how can you afford to miss out when hopefully they come back again next autumn?


Review by Andy Nathan
Photos by Noel Buckley
---