Just witnessed your best live gig?.. send us a review!
NEW GENERATION BLUES 2011 featuring WT FEASTER BAND, VIRGIL & THE ACCELERATORS, MITCH LADDIE BAND
Boom Boom Club, Sutton, Surrey, 20 May 2011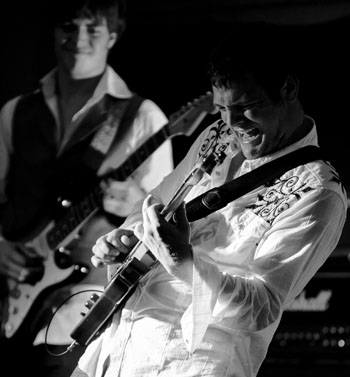 New Generation Blues 2011 may not have the immediate star quality of its Oli Brown/Joanne Shaw Taylor & Virgil predecessor, but Mitch Laddie, WT Feaster and Virgil & The Accelerators made light of any burden of expectation with contrasting styles, virtuoso playing and the quality of their songs.
Remarkably for only the second night of the tour there was clearly a feeling of camaraderie and bonhomie as evidenced by the generous plugs for one another's abilities and the swift between set changeovers.
The thrilling climax to the show which saw Feaster whisper mid solo to his compatriots to engineer an outrageous back to the audience, three upside down guitars behind the head finale, merely confirmed the jovial spirits.

Newcastle's gunslinger Mitch Laddie and his band opened and proved to be more than a hard working, riff grinding power trio as they offered unexpected moments of subtle delight.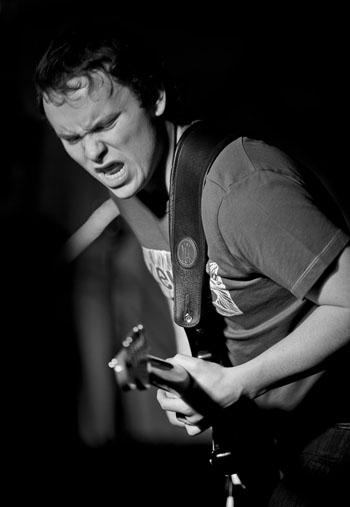 Mitch explored the nuances of a Texas shuffle on 'Get You Back' and quickly gripped the crowd with an impressive slow blues 'Here's A Drink'. He also had the confidence to unveil the newly written and tightly wrapped 'What Are You Living For' and brought the crowd to complete silence on a magnificent fusiony 'Mr Johnson' - a song dedicated to Eric Johnson - that was closer to the West Coast than Newcastle, but was brilliantly conceived and executed. The band fully deserved their warm reception.

And so to the 'veterans' of the last NGB tour, Virgil & The Accelerators; Like Mitch Laddie's band, VATA are barely into their twenties and bristle with a quiet confidence that is tempered by an apparent sense of humility leading to a number of thank you and an honest account of their influences.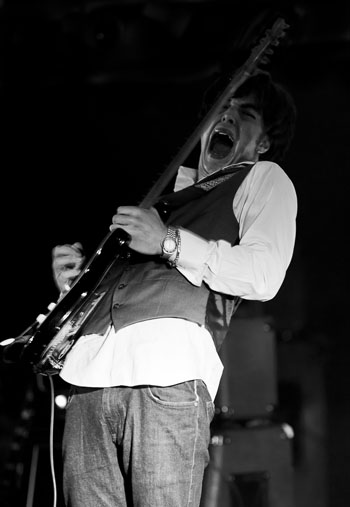 And while it is tempting, if not plain lazy to pigeon hole them as SRV disciples VATA's set thrillingly proved they have so much more to offer.
Whereas the majority of Virgil's contemporaries rely on speed, volume and the big gesture, Virgil ignores the latter and incorporates the former into a playing style that is restless but articulate, rocking but bluesy edged and technically brilliant but delivered with real feel.
Previewing their debut autumn Mystic release 'The Radium', VATA take from the past to reshape the rock/blues template with a youthful vibrancy and with an acute awareness of the power of dynamics.
Virgil's deft use of touch, tone, sustain, volume swells, wah wah, and a tightly focussed intensity is that of someone 20 year his senior. Virgil & the Accelerators appear to be quick learners and songs like 'Racing With Life', 'Bad Girl' and the more familiar 'What Am I To Do' spoke eloquently tonight.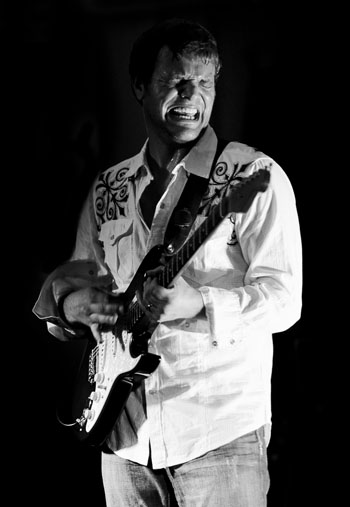 WT Feaster had it all to do but demonstrated that you can't go far wrong with an immaculate rhythm section and an inherent soulful feel. This is a band that makes a virtue out of contrast, building up a succession of grooves and funky runs, with soulful phrasing and earthy singing. Travis himself is a melting pot of white boy soul and blues with the emphasis on songs, harmonies and grooves. Tonight it translated into a stage show that ebbed and flowed with real panache.
WT unravelled his languid but insistent style on the tautly delivered 'Gunshy' and explored some fine fret board work on the title track of his current CD 'Wish You Well'. He almost slipped into pop mode on a humorously introduced homage to casual sex 'Mr Maybe', soared high on a gorgeous rock ballad 'This Bird Has Flown' and unexpectedly lurched into the muscular funky territory of the Tower of Power's 'What Is Hip'.
WT Feaster's effortless playing style, understated approach, lingering melodies and slow ascending solos made for some soulful magic.
The hotly anticipated three guitar jam provided a suitably colourful climax to a NGB bill that suggests contemporary blues is in the very best possible hands.
Review by Pete Feenstra
Photos by Adrian Gee