Just witnessed your best live gig?.. send us a review!
WISHBONE ASH
Islington Academy, London 31 March 2011
Photos by Noel Buckley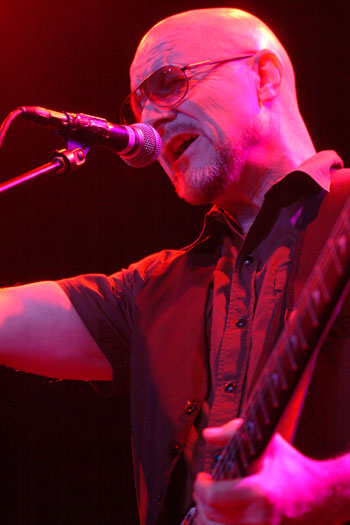 Over 40 years into their career, there cannot be a harder working band than Wishbone Ash. They keep up a punishing schedule of touring all over the world, including a regular as clockwork sequence of UK tours every spring and autumn for the last 15 years or so. There can barely be a small town in the country which has not had the privilege of seeing the music of one of classic rock's great, yet underappreciated treasures at close quarters, admittedly with only one member in Andy Powell from their heyday.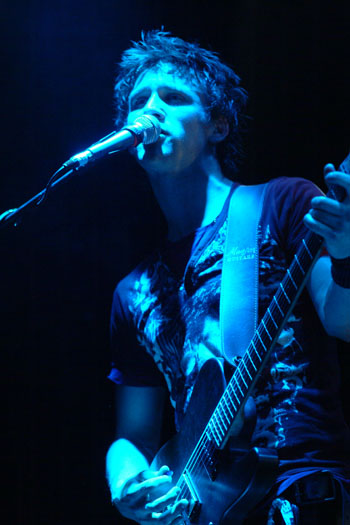 A respectably full Islington Academy was treated first to a very different generation and style with nearly an hour's worth of support act Rude Tiger. This young three piece have evolved from the Morris Brothers band, who Wishbone took under their wing in the past, and the closest comparison on a number of grounds - from the progressive arrangements and the vocal style right down to the spiky haircuts - are with fellow Devonians Muse.
There was also the odd touch of U2 and some post-punk style choppy rhythms. Guitarist (and lead singer) Jas Morris has impressive technique and creates interesting sounds, and it is easy to see how he has won various awards in the guitar press.
While far from my own musical tastes, these guys are seriously talented and a band to watch provided you look beyond their rather bizarre name.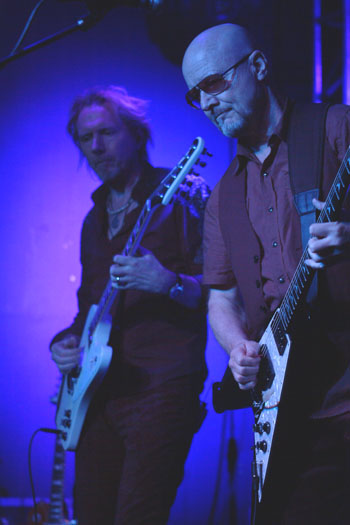 After all my years at Wishbone Ash gigs they can still surprise and on this occasion they did so by opening with 'Blowin' Free', their best known and most commercial number. It invariably closes the main set or the encores, but on this occasion got the crowd, who can be slow to rouse sometimes, in the mood from the off, enlivened by a great closing solo from Muddy Manninen on the lap steel he makes his speciality.
Following that up with the jaunty twin guitar instrumental 'Bona Fide' would have shown anyone not familiar with their material exactly what Wishbone Ash are about.
Andy Powell is very much the focal point of the band these days, his shaven, bespectacled head crouched over his trademark Flying V. His guitar playing remains as immaculate as ever, with lengthy, mellifluous solos that ooze melody no matter how many notes he fits in and never outstay their welcome.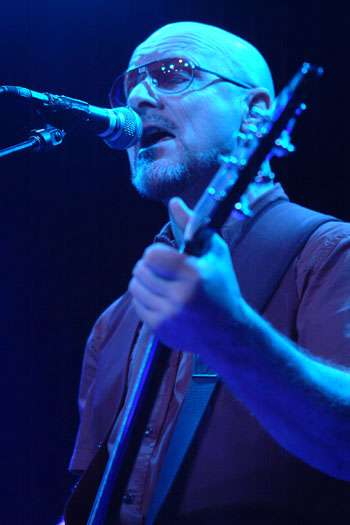 He has also long since taken over lead vocal duties, and in general the set list was wisely chosen with the songs that most comfortably sat in his vocal range. It felt as if he took the lion's share of the guitar solos, but his 'harmony twin' Muddy complements him nicely, although the Finn always appears in a world of his own, making little attempt to engage with the crowd.

Their 1972 masterpiece 'Argus' - recently described in the Guardian as the greatest million selling album no-one has ever heard - will naturally feature heavily in any live show, although it is noticeable that rather than replicate the original note for note, they will vary the arrangements slightly.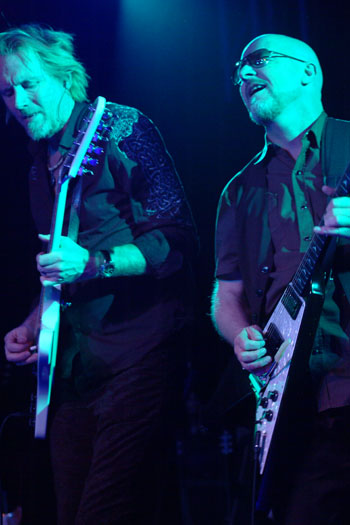 The double salvo of 'Warrior' and 'Throw Down the Sword', complete with a great closing solo from Andy, always epitomise the mystic imagery and quiet and loud guitar passages that sum up that album's magic, while 'The King Will Come', far later in the set than usual, featured a heavy solo from Muddy that grew on me as it developed, and some virtuoso bass playing from the ever smiling Bob Skeat (now in the band 13 years ago and a key contributor notably with his harmony vocals).
'Front Page News', one of the few nods to their more Americanised later seventies work, was another where they substantially improvised around the original song.

However two things stand out about this incarnation of the band: one is that the constant roadwork has resulted in a watertight unit, which is perhaps the most consistently rocky of their many line-ups over the years. The way they carried off the lengthy, intricate instrumental F.U.B.B. ('f---ed up beyond belief'!) was proof of this.

The other is that this is not purely a nostalgia show, however much that may be what most of their audience want.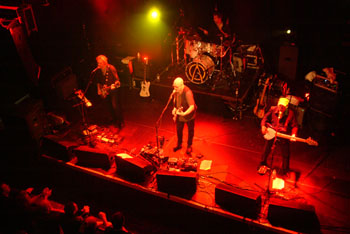 Zoom (Click large image to cancel)
By my reckoning there were at least half a dozen songs from 2007's 'Power of Eternity', or afterwards. To my ears, the likes of 'The Power', 'In Crisis' and last year's single 'Reason to Believe' are relatively average compared to past glories, but live take on a life of their own as they develop into full on twin guitar jams with loads of interesting interplay.
New song 'Can't Go it Alone' is even better, and the way the two guitars alternately jousted and came together in a lengthy instrumental passage reminded me of the Molly Hatchet epic 'Fall of the Peacemakers'.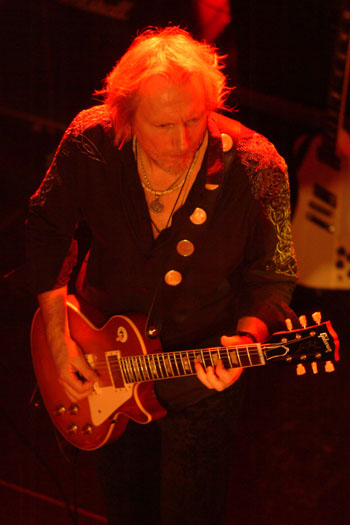 After 'Engine Overheat' unexpectedly developed into a meandering jam with bass and guitar solos, came 'Phoenix' which Andy dedicated to Japanese fans affected by the recent earthquake and tsunami. Clocking in at 16 minutes it was fittingly epic, with Muddy given the scope for some fiery solos.

The set was over 2 hours long and sadly there was time for just one encore - rather surprisingly the classic ballad 'Persephone' from 1974's 'There's the Rub', in which Andy struggled manfully with a song not designed for his vocal range and produced a breathtaking closing guitar solo which was perhaps his best of the night.
There were some earlier sound problems but I wonder if they got carried away and the jam during 'Overheat' was longer than intended, depriving us (I suspect) of live favourite 'Jailbait'.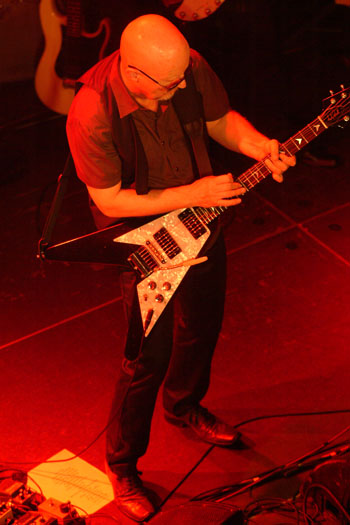 Andy Powell deserves huge credit for keeping the Wishbone show on the road through thick and thin. As long ago as 1977 they were being dismissed as boring old farts, so now that classic rock is more respected as a genre and there is a greater appreciation of the great acts of its heyday, it is a pleasure to report that the phoenix is still blowing free.

Setlist: Blowin' Free/ Bona Fide (instrumental)/ You See Red/ The Power/ Can't Go it Alone/ Warrior/ Throw Down the Sword/ F.U.B.B. (instrumental)/ In Crisis/ Northern Lights (instrumental)/ Disappearing/ Front Page News/ The King Will Come/ Reason to Believe/ Engine Overheat/ Phoenix Encore: Persephone


Review by Andy Nathan
Photos by Noel Buckley
David Randall writes: GRTR! received some notoriety at the Birkenhead gig (Pacific Road, 8 April) when Andy Powell - after 'Engine Overheat' - asked the audience if they concurred with the view that they'd just heard a meandering jam, referring to our London review.
My GRTR! colleague and gig companion Keith Thompson thought that it might have meandered, "but in a nice way". Wishbone Ash are masters of their trade whether they stretch out 'nicely' or play succinct and accessible songs sparkling with distinctive harmony guitars.
'Heritage rock' is a frequently used and abused term these days, often evoking an image of rock dinosaurs recycling old glories. But Wishbone Ash are a band who have never sat on their 1970s royalty cheques and have constantly reinvented themselves whilst adhering to the spirit of what made them popular in the first place.
This gig confirmed the band's legacy is safe in Andy Powell's hands and an excellent new track 'Can't Go It Alone' underlined that they are still relevant after all these years.
---